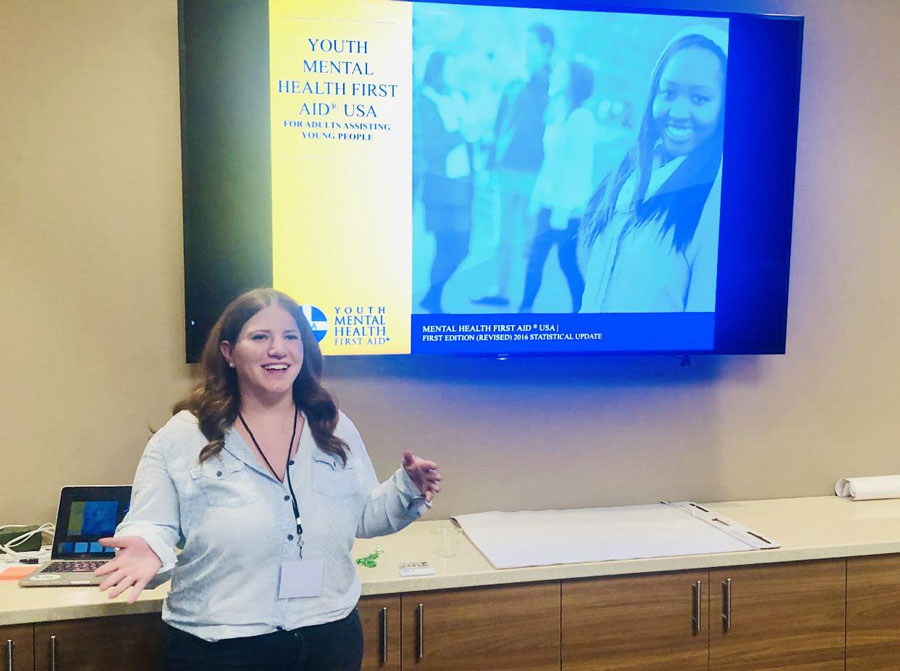 According to the World Health Organization, mental illness afflicts 450 million people worldwide and half of all lifetime cases of mental illness begin by age 14. Left untreated, mental health issues in kids can lead to school truancy, suicide, incarceration, risk-taking behaviors, addiction, and other health problems.
The good news is increased awareness has led to programs that teach people to identify those struggling with mental health, step in, and provide what can be lifesaving resources and support.
Consider the Youth Mental Health First Aid course offered by the National Council of Behavioral Health. It was created to help adults to best assist young adults, ages 12-18 years, who are experiencing mental health or addiction issues. Last year, The Jewish Education Project (JEP) invited United Synagogue Youth (USY) to participate in the program, and USY Recruitment Manager Elyssa Ronik jumped at the chance to get involved.
"Both of my parents work in the mental health field so I learned early on the importance of taking care of ourselves physically and mentally," Elyssa shares. "Having access to this resource not only helps us perform our jobs better, but we can also care for young adults who need help."
Elyssa became a Youth Mental Health First Aid Certified Instructor following a five-day course and has since led two courses to train others as Certified Youth Mental Health First Aiders. She taught at the annual Jewish Youth Directors Association Conference, which was held for chapter and regional USY professionals from across North America. She also led a session for USY Summer Experience staff, who brought their newfound skills across North America and overseas to Israel and Europe during their time staffing USY Summer Programs.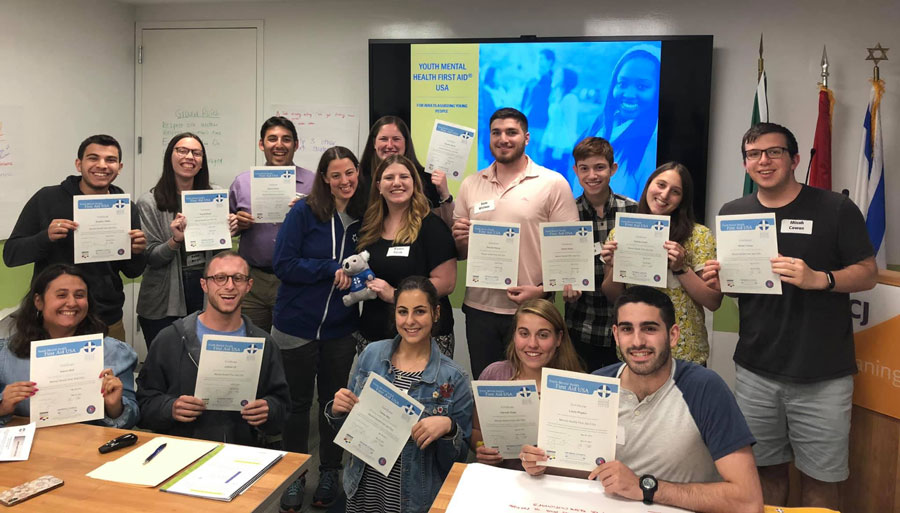 The course teaches about recovery and resiliency—the belief that individuals experiencing mental health challenges can and do get better. Through role-playing activities, participants learn to recognize signs of mental health disorders and challenges, which include but are not limited to depression, anxiety, trauma, psychosis, and substance abuse.
"We come in contact with people all the time," explains Elyssa. "As mentors and teachers, it's crucial that we can recognize the warning signs."
Through the program, First Aiders also gain confidence to reach out and support someone in crisis. They can simply listen, or if needed, offer a crisis help line or appropriate organization that serves the specific issue.
"Mental health issues are increasing and the issue needs support," says Elyssa. "I'm proud of our staff for playing an important role in improving the lives of the young adults we work with and hope to expand to help as many people as possible."
Meet ALGEE

ALGEE is a five-step mnemonic (memory) method that First Aiders follow to help those suffering from mental illness, and it's also the name of the program's koala mascot.

Assess for risk of suicide or harm
Listen non-judgmentally
Give reassurance and information
Encourage appropriate professional help
Encourage self-help and other support strategies
---
Warning Signs of Mental Illness in Children
Parents concerned about their child's mental health can heed the following warning signs:
Lingering sadness that lasts two weeks or longer
Less interest and participation in social activities
Hurting oneself or talks about doing so
Speaks about death or suicide
Increasing or frequent outbursts
Out-of-control behavior
Extreme mood or behavior changes
Weight loss or change in eating habits
Trouble sleeping
Complains often about headaches or stomachaches
Unable to concentrate
A decline in school attendance and grades
---
What to Do if You Think a Child Is Suffering from Mental Illness

If you think your child may have a mental health disorder, talk to your child's doctor. It's helpful to also invite feedback from your child's teachers, coaches, relatives, or other caregivers.