The visually impaired are active, accomplished, and independent members of our community. But can they play lacrosse? Now they can, thanks to an inclusive invention by one Jewish teen with a passion for the popular sport and tikkun olam, repairing the world.
A Rising Student and Athlete
Gabrielle Kiewe is a senior at Schechter School of Long Island in New York, a K-12 Jewish Day School powered by T-STEAM curriculum (Torah, Science, Technology, Engineering, the Arts, and Mathematics). She has played lacrosse since the 3rd grade, when she had to choose a sport to participate in at sleep-away camp. "I came home and told my mom I want to play lacrosse," Gabby says. "She said to give it a year and I came back the next year after camp still wanting to play."
Several local, travel/club and high school teams later, Gabby often combines her passion for the sport with giving back, especially within the special needs community. She has worked with Knights Lacrosse, which pairs local high school students like Gabby with special needs youth to help them learn the sport. She has also enjoyed partnering with a special needs student as part of Chabad's Friendship Circle program.
Another passion for Gabby is her Judaism, which she loves sharing with her lacrosse family. "Being a Jew who plays lacrosse is actually somewhat rare," she shares. "I go to a Jewish day school where I'm surrounded by Judaism in my life. But at lacrosse, some of my teammates don't know what it means to eat kosher. Or why I don't eat bread on Passover. Or why I can't practice on Yom Kippur. Having to explain Judaism to my friends and peers has really helped me to develop my Jewish identity."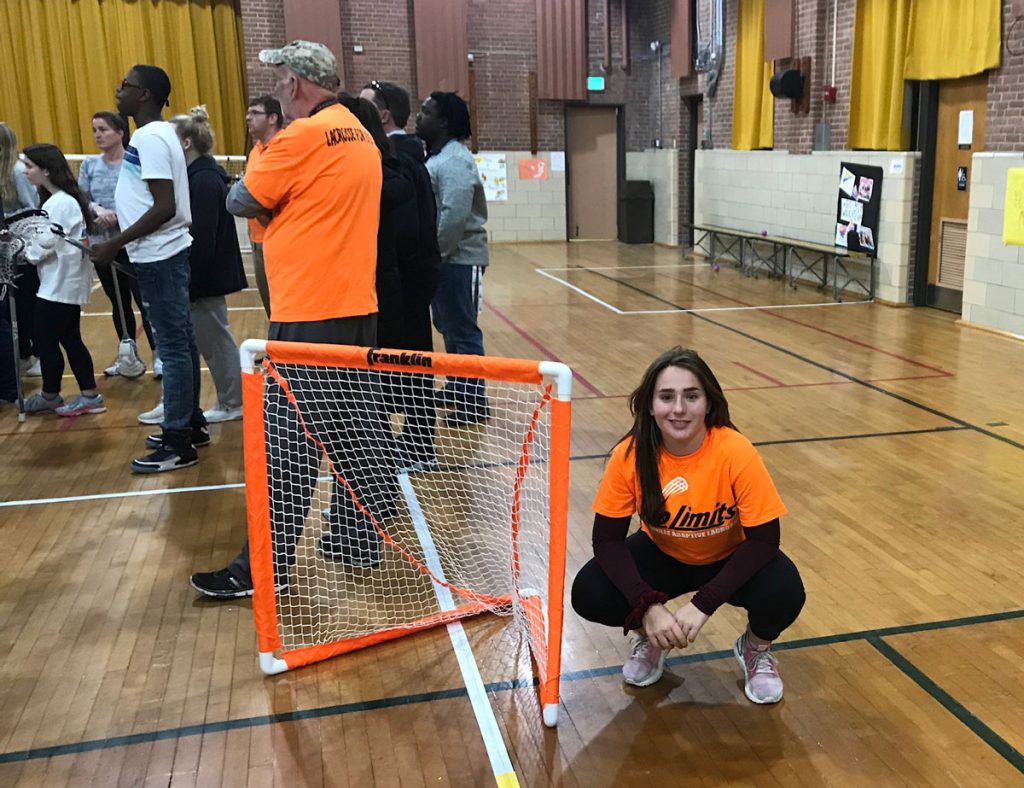 A Passion Project
In 9th and 10th grade, Gabby was part of her school's engineering program, where she enjoyed participating in group work. But as she continued the program in 11th grade, she was able to work independently on her own project, and Gabby already knew exactly what she wanted to do.
The idea for specialized lacrosse equipment for the visually impaired came from her work with Knights Lacrosse earlier in high school. A Rabbinics class also led her to the Rabbinical Assembly's website where she discovered information on ways the visually impaired participate in synagogue services. "I thought, 'If inclusivity can happen with something so sacred, then why can't I do something inclusive with something that is sacred to me—lacrosse?"
Gabby began staying late after class several days a week. She researched the needs of the visually impaired and how sounds affected them. She thought about how sounds could help lacrosse players with special needs to locate the ball and net, know the distance between them, and know when they score a goal.
All this led to the development of a product prototype, which she named "LoudLax" (lax is short for lacrosse). It's a system of equipment that consists of uniquely designed balls and goals with embedded radios and sensors that help communicate information about the ball, net, and goal to visually impaired players.
A Result Worth the Work
Next came the most challenging part: testing. Gabby reached out to U.S. Lacrosse, which connected her with a gentleman named Marty Delaney who was already doing work in this field. Marty helped to create a clinic this past February with The Maryland School for the Blind where Gabby could put her equipment to the test.
From the school's gymnasium stage, Gabby was able to watch visually impaired students track the net and score while she moved it thanks to her LoudLax technology. "I was so nervous it wasn't going to work," she laughs. "I'm a goalie in lacrosse so it felt like I made the game-winning save! People really want to see it improve and use it again."
In fact, students who participated rated the experience a five out of five. They gave feedback like, "Can't wait until we play again" and "Awesome to shoot the ball so fast!" Coaches and staff were equally impressed. "We're blessed to be part of the original trials of this new product," shared one. "Also, it's amazing that all the feedback is used immediately for the next session. Brainstorming from players and coaches is the best way to improve and show results for adaptive lacrosse."
While Gabby hasn't been able to do additional testing due to COVID-19, she is staying busy fine-tuning her product. She is also speaking with patent and trademark attorneys about the technology—especially since it can be used for so many other sports, from soccer to basketball—and looking into companies that could one day manufacture it.
A Future Jewish Leader
"Gabby is a great student and person," says Schechter School of Long Island College/Guidance Counselor Mark Kowalsky, who has worked with Gabby since she was in the 7th grade. "I see her going out into the world and really becoming a Jewish leader and contributing to the Jewish community and to the world. Her ideas and her invention are just amazing."
Gabby, who has served for several years as a peer educator/mentor to middle school students at her school as well as treasurer on the executive teen board of her local Jewish Community Center (JCC), is still deciding where she will go after high school. In her college search, she looks to see if campuses have Hillel or Chabad as well as other valued aspects of Jewish life.
"I know I want to continue my Judaism when I leave the bubble of my Jewish day school," she says. "I want to find my new bubble and expand it."
This will no doubt be a place where she can continue to combine her passions for lacrosse and giving back.
Gabby was proud to be featured in the April edition of U.S. Lacrosse Magazine. Read the article here.
---
For the latest updates, follow @loudlax on Instagram!
---