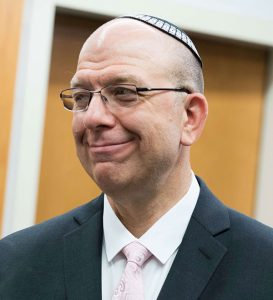 Can you tell a child predator from someone who is simply being friendly to your child? And, more importantly, can your child tell the difference? Dr. Cliff Nerwen, a pediatrician and president of Conservative Synagogue Adath Israel of Riverdale in New York who won last year's Shoshana S. Cardin Award for his child protection work, says the ability to discern between the two can be life saving.
Given that child predators could be lurking anywhere children are present, Dr. Nerwen set out to make a difference, first in his own synagogue and later in the broader Jewish community. He chaired his synagogue's Child Protection Committee and led the implementation and evolution of child protection policies, as well as conversations and education about this important topic. He now serves as board chair of Sacred Spaces, an organization partnering with Jewish institutions to prevent and respond to sexual abuse and other abuses of power.
Dr. Nerwen offers these facts and tips for parents to consider as they work to keep their children safe:
Know the facts:
There are 3 million reports of child abuse made each year in the U.S.
Most child abusers (93 percent) are known to their victims—usually family members, relatives, friends, teachers, coaches, babysitters, etc.
Most abusers have multiple victims.
It may take child abuse victims years (even decades) to reveal their history of abuse.
Vulnerable children, children with special needs, and those who seek out attention and affection are more susceptible.
Try these tips:
Teach your children that private parts are private and that no one has the right to touch their bodies without permission (for example, with permission, a physician at the time of a medical exam would be appropriate).
Teach children appropriate anatomical names for their private parts. This sends the message that their body parts are private, but not taboo for regular conversation.
Make it your familial norm that secrets should not exist between parents and children, nor with other adults. Your kids should feel comfortable speaking to you about anything. An adult should never ask your child to keep a secret.
Be wary of individuals who offer unsolicited treats, gifts, special trips, or privileges to your children.
Encourage and empower them to say "no."
Keep all interactions between adults and your children observable and interruptible—never alone behind a closed or locked door.
Routinely discuss sexual topics in your home with older children. News events can trigger these open conversations, and children should be encouraged to share their thoughts and questions.
If a child discloses information regarding an incident that is suspicious, listen carefully and take them seriously. Report the suspected episode to your pediatrician, local state child protection agency, or the police.
Ask the leadership of your youth-serving organizations (shuls, daycare facilities, youth groups, camps, etc.) if they have child protection policies, guidelines, and training for staff and ask to see the materials.