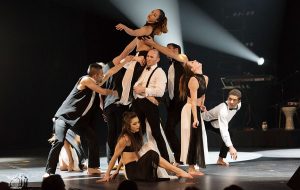 Art and in particular, dance, has the power to educate and effect change. That's the mission behind the Keshet Chaim (Colors of Life) Dance Ensemble, which draws from timeless themes of Jewish culture to preserve tradition and bring stories alive on stage worldwide.
Founded in 1983 by Artistic Director Eytan Avisar, Keshet Chaim, under the creative direction of Choreographer Kobi Rozenfeld, develops original choreography that fuses contemporary Israeli dance with Jewish folk dance traditions from across the Diaspora. Executive Director Genie Benson joined the company more than 30 years ago as a dancer. "Back then, we performed at local events, like weddings and Bar and Bat Mitzvahs, which was entertaining," she says. "But I realized we could have a greater impact by creating educational programs that inspire appreciation for diversity and curiosity about our culture."
Genie obtained nonprofit status, applied for government funding, and raised money to implement educational workshops in schools across Southern California. Twenty-five years later, this facet of Keshet Chaim is still going strong.
Today, the dance ensemble holds "Colors of Israel" workshops in Jewish day schools, synagogues, and underserved schools throughout the Los Angeles Unified School District. This year, they will teach a record 18 classes per week at a Hebrew language public charter school, Lashon Academy. Here, every student participates in a weekly class that incorporates Israeli folk dance, Jewish culture, Hebrew, Jewish stories and traditions, and the value of tolerance.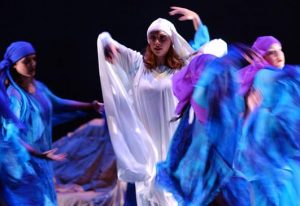 "The feedback we receive from public schools is the most rewarding because those students are often unfamiliar or have heard negative things about the culture," shares Genie. "We receive letters from students saying how much they learned, and how much they want to visit Israel. It's so rewarding!"
Over the years, the dance ensemble has also grown by boosting its roster of trained dancers. There are now 30 talented individuals who captivate the stage through their effervescent moves. This summer, Keshet Chaim plans to travel to Israel to perform at venues in Kibbutz, Mishmar HaEmek, and Ness Ziona, which is home to the group's choreographer. If all goes as planned, the highlight of the trip will be performing at the three-day Karmiel Dance Festival—one of the largest dance festivals in the world. Performances run 24 hours a day and are attended by half a million people.
"We first performed at Karmiel in 1988 and again in 1990," recalls Genie. "Thirty years later, we'll return as a professional company dancing on the festival's prominent main stage. "It's exciting to return on a different level."
A Unique Identity Worldwide

Keshet Chaim has received praise from the international press, whether this group of professional dancers is performing at the Hollywood Bowl in Los Angeles, Festival Aviv in Mexico City, or Arad Festival in Israel. Accolades include features in Broadway World, Israeli Week, the Los Angeles Times, and the Los Angeles Daily News, who aptly points out, "Keshet Chaim forges a unique identity…one of the few touring American dance groups committed exclusively to Israeli culture and dance."
Watch Keshet Chaim's introductory video:
Keshet Chaim's collection of dances represents the many colors of Israel and the Jewish people.