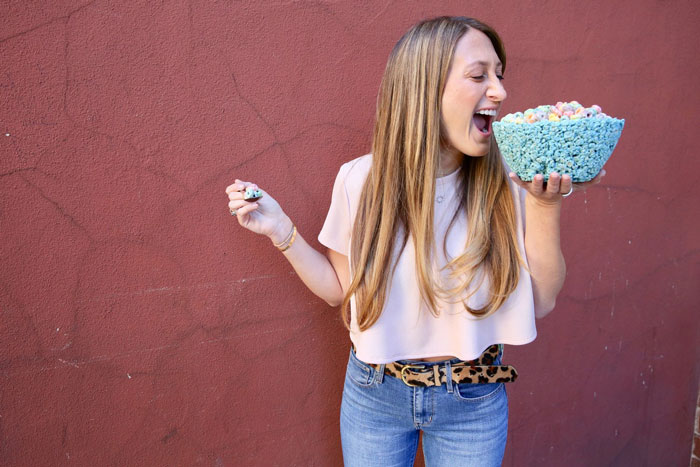 "Community is such an important Jewish value, and this is a way for people to gather, create, and celebrate." —Jessica Siskin
What happens when a Jewish artist meets crispy rice cereal and melted marshmallows? Oodles of edible creations emerge—from spot-on servings of bagels and lox to seder plates to a portrait of U.S. Supreme Court Justice Ruth Bader Ginsburg.
"I've always loved creating," says Jessica Siskin, owner of Misterkrisp. "My mom was in the fashion industry, and I used to sit under the table playing with the fabrics to see what I could make." Following in her mother's footsteps, Jessica graduated from NYU and entered the fashion world in a sales position she enjoyed, but it lacked the creative outlet she needed.
Enter serendipity. While visiting a friend, Jessica was asked to help make crispy rice treats. "At first, I declined because I don't know how to cook," she admits. "But when I realized I could mold it and dye it like fabric, I was in. My favorite part about this form of art is its meaningful end use—you eat it!"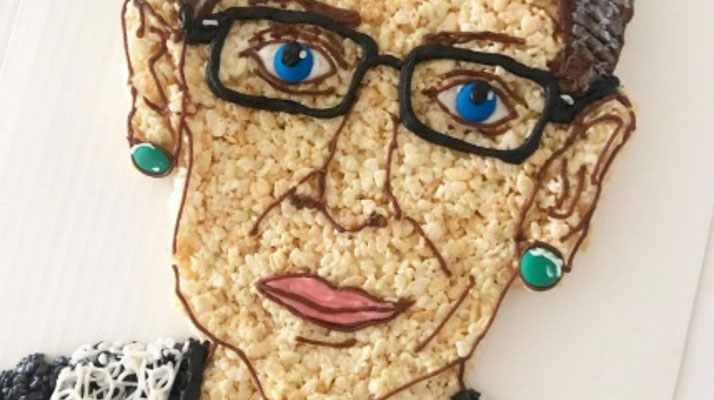 Jessica began experimenting with food coloring and made a cheeseburger complete with lettuce, tomatoes, and melted cheddar. She was so proud that she posted a photo on social media. "It was the first time I received over 100 'likes,'" she recalls. "That was my 'ah-ha' moment."
Jessica dug in and challenged herself. She made hearts, animals, and emojis, and perfected her crispy rice recipe.
In 2013, Jessica launched Misterkrisp and blessed Instagram with its ooey-gooey goodness and dazzling designs. Soon after, she quit her job to focus on creating, fulfilling orders, and traveling via the media circuit—from The Wall Street Journal to the "Today" show and "Rachael Ray Show." When Rachael asked Jessica how she chose the Misterkrisp name, Jessica responded, "Misterkrisp is the name of the villain in 'Sister Act 2,' which is one of my favorite films, but I had no idea I'd be standing with Rachael Ray explaining that!"
Of course, all of that publicity boosted Misterkrisp's Instagram followers, now at more than 69,000. And, it fueled crispy treat orders, especially for custom-made drivers' licenses, doggie portraits, and apples and honey for Rosh Hashanah. Her crispy apples were featured on www.schusterman.org, where she shared, "My intention for the new year is to be more mindful of staying present in the moment. When I'm working with my hands to make creative treats, I'm challenged just enough to stay present (and my hands are too sticky to mindlessly grab my phone)."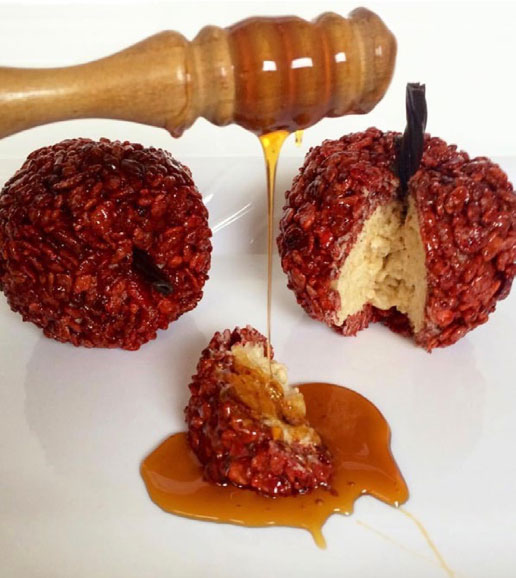 Adding to her sweet success, Jessica also completed her MFA in writing and authored a book, Treat Yourself!—complete with 93 crispy rice recipes, arranged from apple to zebra. "These projects are especially fun when people make them together," shares Jessica. "Community is such an important Jewish value, and this is a way for people to gather, create, and celebrate."
While it seems Misterkrisp may have hit it big, Jessica prefers to make her crispy treats from her own kitchen, exclusively for locals—at least for now. "I was raised to recognize and appreciate where we are in life," she says. "I have such a great community here in New York and globally through social media. I've built my own community through Misterkrisp, and I want to spread positivity throughout it in any way I can."
---
Tips from Misterkrisp
When making crispy treats:
Always use mini marshmallows—they melt more evenly.
Melt the marshmallows down to about 75 percent—so you can still see little marshmallow lumps.
Use gel food coloring—the color is more vibrant than liquid food coloring.
Spray your hands with cooking spray before molding—it keeps your hands from becoming a mess.