It's said that you can't truly understand and empathize with someone until you have walked a mile in their shoes. While that wasn't possible, 43 staff and teens traveling on one of the USY on Wheels Classic buses this summer got close while revisiting the Tree of Life Synagogue in Pittsburgh, Pennsylvania, which was the target of the worst anti-Semitic mass shooting in U.S. history last October that left 11 members dead and a community devastated but not broken.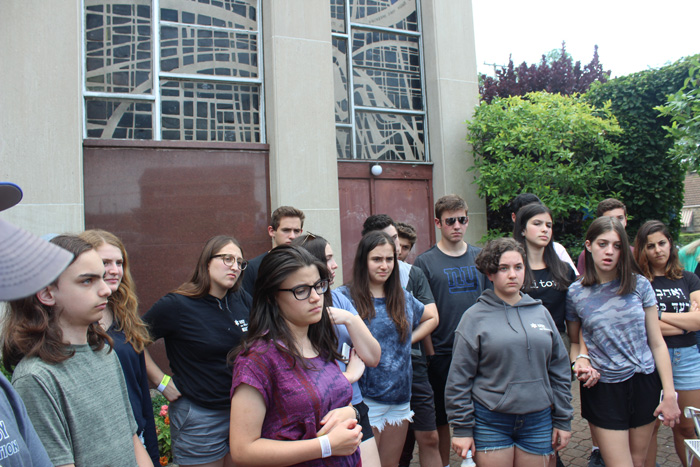 Sophia Cohen, who has been a USY summer staff member for the past three summers and a group leader in 2019, coordinated the visit. It was part of an itinerary that also included stops at classic American landmarks, like the National Mall in Washington, DC and Mt. Rushmore in South Dakota, and quirky, lesser-known places, like an alligator farm in Texas and the world's largest truck stop in Iowa.
"One of my staff members, Ethan Feuer, reached out when I was still in the trip planning process and asked me to look into a visit to Tree of Life Synagogue," says Sophia. "Unfortunately, it's something they do frequently now. They were very eager and willing to make the visit happen, and even arranged for a police presence, which was very reassuring."
As timing would have it, the visit took place just days after two other deadly mass shootings—at Walmart in El Paso, Texas and outside a bar in Dayton, Ohio. "When we debriefed those events, we tied in that we'll have this personal connection when we visit Tree of Life," shares Sophia. "It was much heavier than the other sites we visited during our trip. Some were feeling emotional and nervous about what they'd see. Others had been to the USY International Convention the year prior where the rabbi from Tree of Life spoke so they had some experience going into it."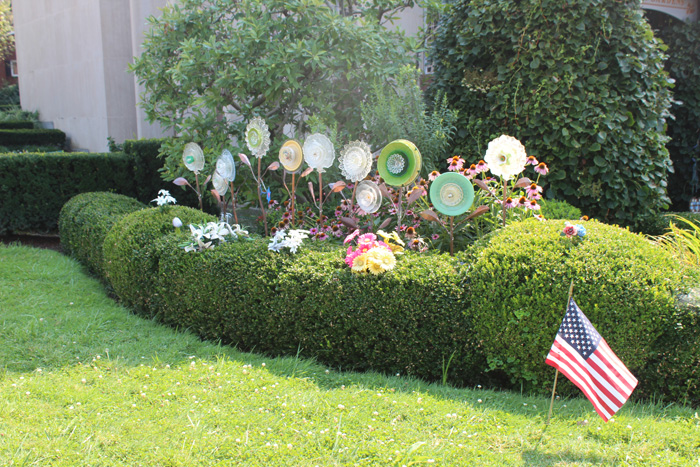 Ethan recalls how he felt in the moments before arriving: "I remember sitting in my seat feeling somewhat anxious. I knew some of our USYers had been speaking about it, articulating their nerves and concerns with visiting a site of such recent magnitude. But I tried to be strong and positive as a role model to our teens. I was hoping for them to get something deep and meaningful out of the location. I felt if they were to stand on the site of an atrocity against our people within driving distance of their homes, they may realize how valuable Jewish living and Jewish peoplehood really are."
When they arrived at Tree of Life, retired Rabbi Chuck Diamond, who had led the synagogue for seven years, warmly greeted the group. The teens were then split into two smaller groups. One met with representatives from the three congregations who called the synagogue home at the time of the shooting. They heard about their experiences on the day and then were able to ask questions like, "How have you been continuing since?" How do you keep the memories of those who died alive?" and "How has your Judaism changed?" The other group met with a synagogue security guard who went into great detail about the lives of the people lost, how they were dedicated pillars of the community—the ones who were always at shul first to set up—and how the community was honoring their legacy.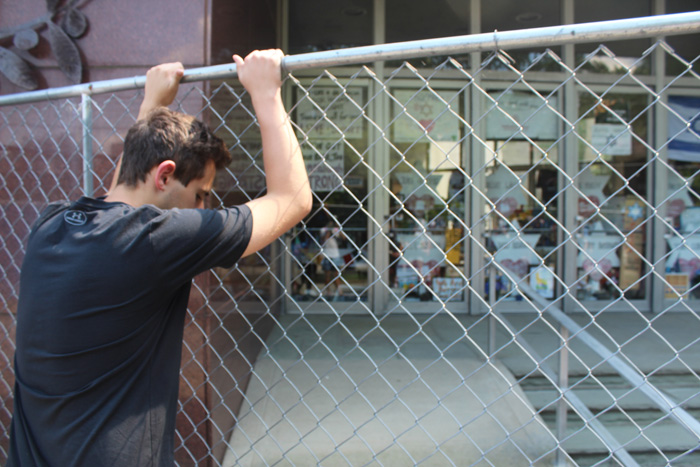 During their visit, the group walked through the outside courtyard and gardens planted in memory of the victims. They were also taken around to the front entrance, which while blocked off, has plaques adorning the windows—one for each victim with their name and special things about them.
The visit left quite an impression on everyone. "The biggest impact I felt was how familiar the victims' stories seemed; it made me think of members of my own community who reminded me of those who were lost. Every Jewish community has those people who get up early to be at shul and greet people with smiles on their faces. It hit close to home that it could have been someone from my community or any of our other Jewish community."
Before boarding the bus and heading to their next destination, the teens wrapped their arms around each other and sang about building a world of love. They wept, consoled one another and connected the experience back to their Judaism. "For many, this was clearly the most raw, emotional experience of their lives," says Ethan. "After we left, the USYers got back on the bus and sat in silence. There were simply no words, even for a remarkably loquacious bunch. That silence spoke so much louder than any sound that could have filled it."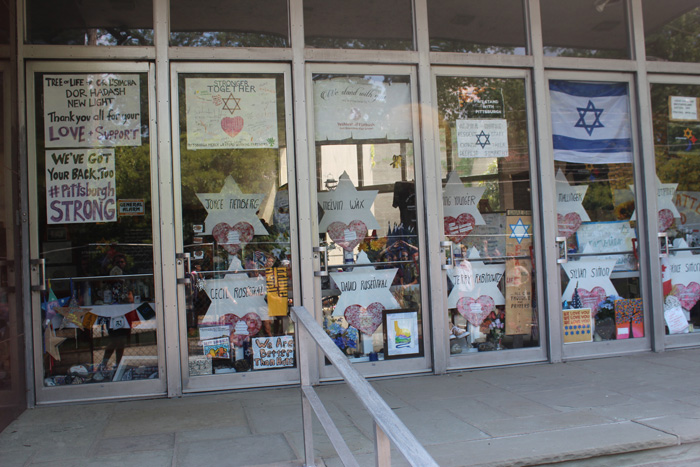 In the end, just like the Tree of Life synagogue remains hopeful for their own future as a congregation and as Jews, the group left this "walk in their shoes" experience with similar thoughts. "The fact that myself and the teens on my bus are the future of the Jewish people gives me hope," says Sophia. "We have this responsibility to spread messages of love, hope and goodness instead of hate."
Ethan adds that through USY on Wheels, they try to show teens the country from a Jewish lens, proving the theory that you can (and should) be Jewish anywhere you are. Visiting the Tree of Life synagogue proved this point by saying that even in times of tragedy, as our people have sadly been accustomed to for seemingly forever, the Jewish community prevails. "Every time we are knocked down, we sit up even stronger," he says. "I feel incredibly optimistic for Judaism's future not only because of this visit, but because of USY on Wheels as a program as well."
Rebuilding Tree of Life

At the time of the shooting, there were three congregations worshipping under one roof.
The synagogue is not currently functioning because of the ongoing cleanup and investigation, but hopes to be reunited again in the future.
In the meantime, the three congregations are continuing on, split among three different spaces.
Read this recent story about the process of the physical rebuilding of the Tree of Life Synagogue.