Yuval Ben-Ami, the son of an Israeli army spokesman, and Husam Jubran, who spent a year in a wheelchair as a teen after being shot by Israeli soldiers, are friends. The two share Israeli and Palestinian perspectives with tourists traveling Israel by tour bus.
Theirs is just one of the compelling and often complicated stories that have been told by The Branch, a podcast presented by Hadassah, The Women's Zionist Organization of America, Inc. (HWZOA) and hosted by Dina Kraft, which offers a glimpse into the everyday lives of Jews and Arabs in Israel forging meaningful relationships.
The podcast is an extension of the humanitarian outreach of the Hadassah Medical Organization (HMO) in Jerusalem, which serves 1 million patients a year. Regardless of race, religion, or nationality, HMO doctors, nurses, and staff work together, building bridges to peace through medicine. HMO is the only medical organization to have been nominated for a Nobel Peace Prize.
"We are known as a bridge to peace because we are truly a model of shared society. Jews and Arabs, Israelis and Palestinians in the HMO exist side by side as doctors, nurses, technicians, and patients," says Judy Shereck, coordinator of HWZOA's PRogramming, Advocacy, Zionism & Education (PRAZE) Division, which oversees production of The Branch. "If you go into the pediatric intensive care unit, you might see two families sitting together — they're not thinking about politics at all, only about the health of their children."
Dina, a journalist, educator, and American who originally came to Israel in 1996 and later moved there with her husband and children in 2017, reports on Israeli and Palestinian politics, culture, and society for Haaretz and The Christian Science Monitor. She remembers well when she got the call from HWZOA to host The Branch. The organization had also tapped Josh Kross, the experienced New York-based audio producer behind the popular Tablet podcast Unorthodox, to produce.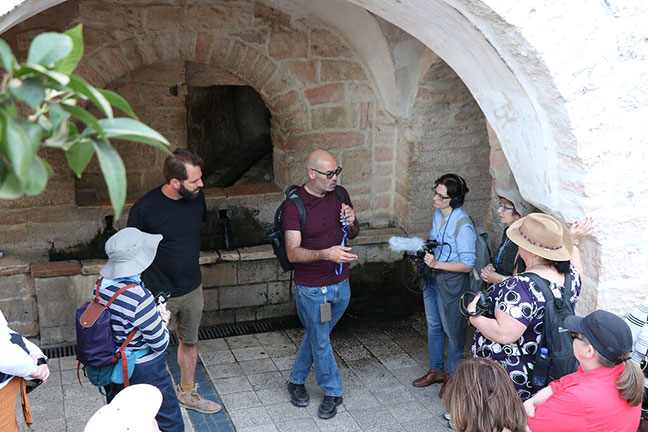 "It came out of the blue — asking if I'd be interested in hosting this podcast about Arabs and Jews in Israel," Dina recalls. "Covering the Israeli-Palestinian conflict for so long and knowing the complex identities of Arab citizens of Israel, I was immediately drawn to the idea of focusing on where people intersect and have real connections and friendships. I also am a lifelong print reporter with a serious crush on audio. I had always listened to Terry Gross on NPR and to podcasts, so I was intrigued. I thought it was time to try a different medium."
As The Branch was preparing to launch, a suggestion was made to take the show out of the studio and into the field, so that listeners could not only hear the stories, but also the settings. It proved to be a brilliant idea. "There are so many podcasts where two to three people sit in a room having a conversation and that can work well too," Dina says. "It really helps to enrich the story when you head to the foothills of Jerusalem, to a village in Nazareth, or to the corridors of the HMO. We have access to all these incredible worlds and now the listener can be brought along to get to know both the people and the places they inhabit."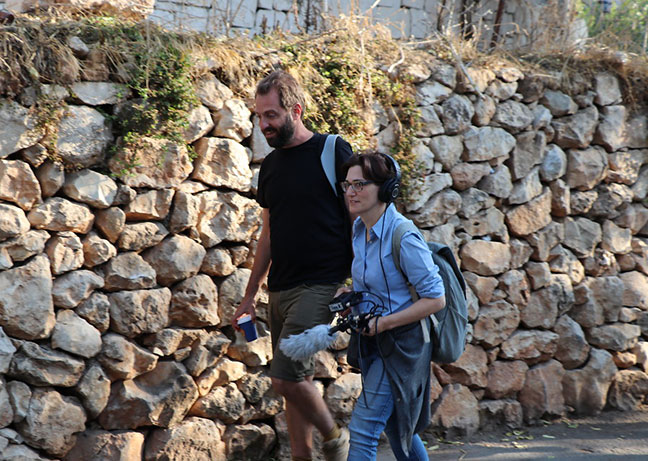 While Dina says she falls in love with every episode in the moment, one touched her personally and has had a lasting impact. "Episode 7 is about two feminists," she shares. "Samah Salaime identifies as a Palestinian citizen of Israel, and Hamutal Gouri is a Jewish Israeli, the daughter of a famous poet. The two became very good friends through their work in feminist circles in Israel. They had been helping to organize rallies to fight against the murders of women by their fathers, husbands, and brothers. When I interviewed them, it was around the same time as the second U.S. Women's March. As you may recall, there was a lot of tension over who would be included. And the question arose: If you are a Zionist, can you also be a feminist? Was the march for some and not for others? Samah marveled at this and said something along the lines of, 'It's so male to think you have to agree on everything. We instead can be small boats going in the same direction.' I thought this was so revelatory. When there is common cause, why can't we focus on things that unite us rather than what divides us?"
Judy, who approves the written outline and audio for each podcast, also has a personal favorite. "There have been so many stories," she says. "As I'm going through written word and audio for each podcast, I'm sitting there in tears because I'm so moved by the stories and relationships. We really get to know the people involved. In particular, there's an episode called 'The Tour Guides' where two guides share their Israeli and Palestinian perspectives with tourists. Dina was going to be on one of their tour buses and as she was leaving to go, rockets were being fired on Tel Aviv where her family and children were. As she commingled her story of concern about her children with the story of the tour guides, it really brought to life what the people of Israel are living through. It was such a moving episode."
Now 18 episodes in, Dina loves that the show doesn't shy away from difficult subjects. It shares stories that are often painful, where people are trying to make sense of past traumas without being defined by them. And it's all done in a format that makes the people telling the stories feel very human and real. "We're always looking for stories of commonality and dignity that live beyond the walls of the HMO," she says. "Our mission is to find where they exist. And what I keep finding anew is how many stories of human connection there are out there that may be overlooked in daily coverage of Israeli and Palestinian life, but manage to persist in brave and bold ways, complexities and all."
Husam and Yuval take tourists on journeys through Israel, helping them to navigate Jewish and Palestinian perspectives about the conflict.