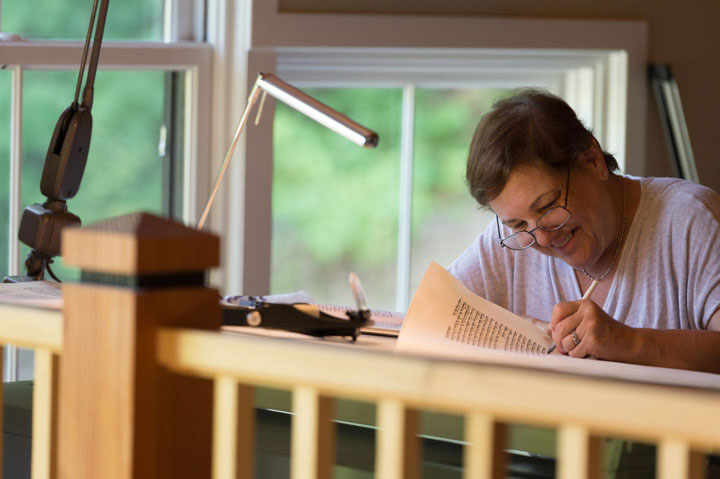 Photos by Scott Saltzman
Calligraphy literally means "beautiful writing." It's no wonder Linda Coppleson—a soferet STaM who is one of the growing number of today's female scribes—was attracted to this meticulous art form that blends beauty, proportion, and posture.
A Soferet STaM is a Jewish scribe who, governed by thousands of Halachot, or Jewish laws, copies sifrei Torah (Torah scrolls), tefillin (phylacteries), and mezuzot. STaM, סת״ם, is an abbreviation for these three terms.
Formative Years
Born and raised in Newark, New Jersey, Linda was a member of Temple B'nai Abraham, a forward-thinking, socially active synagogue. Her community was not affiliated with any particular denomination of Judaism and, in both ethos and practice, encouraged equality in gender and religious observance. At a time when few synagogues offered the opportunity, here, girls celebrated becoming b'not mitzvah.
"It wasn't just a token acknowledgement of coming of age; Bat Mitzvah meant chanting Torah and Haftarah," she recalls of the experience that shaped her belief of what's possible for women. "It never occurred to me until I went away to college that there were limitations for women in Jewish life."
Linda majored in Near Eastern and Judaic Studies at Brandeis University, and received a Master's degree in Hebrew Culture and Education from New York University. That program inspired Linda's passion for teaching.
A Book Opens a New Door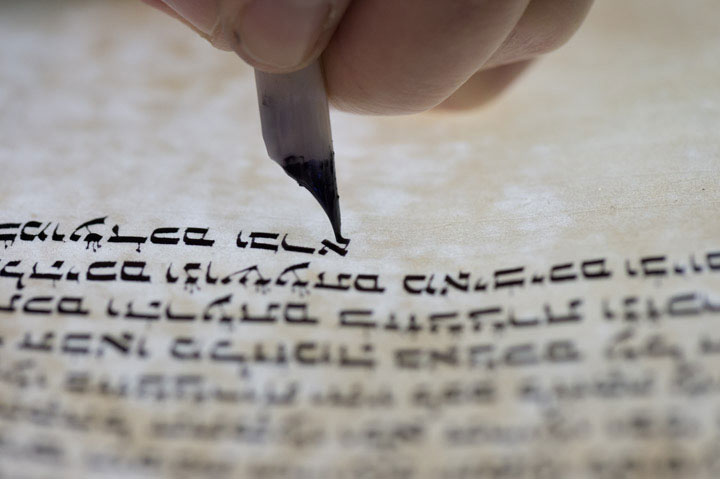 Growing up, Linda focused her artistic attention on music rather than on art, but as an adult she became intrigued by calligraphy after reading a book about Hebrew scribal arts. She was drawn to the perspective of the scribe's role in preserving and transmitting the ancient texts of the Jewish people. As a result, she became interested in learning Hebrew calligraphy at a time when artists and calligraphers were reviving the tradition of creating illuminated ketubot, Jewish marriage certificates, and other Jewish documents. "I went out and bought pens and books to teach myself," she says.
Linda began writing ketubot for friends and family while teaching Tanach, Rabbinics, and Jewish history at Golda Och Academy (formerly Solomon Schechter Day School). "I knew that sofrut, traditional Jewish scribal art, was not open to women, according to Jewish law, but I loved calligraphy and was fascinated by letters in different shapes and fonts," says Linda, who ultimately saw becoming a scribe as a way to bring together her passion for teaching and Torah with her love of letters.
Mentor Provides a Path Forward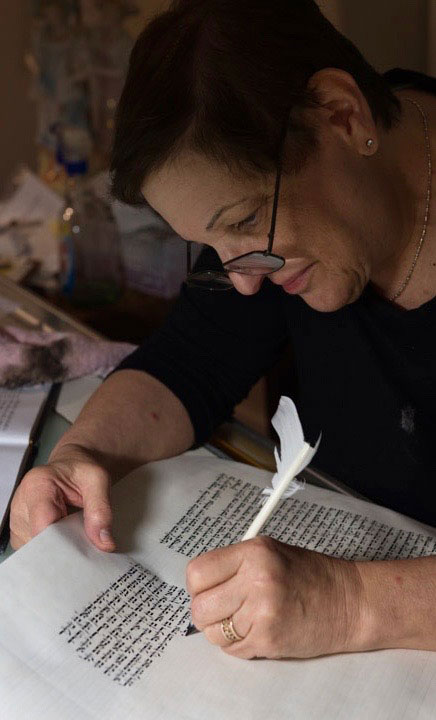 Linda knew she would need extensive training under an experienced mentor to pursue this new path. A chance meeting with a rabbi friend provided her with the name of her first teacher, Rabbi Dr. Eric Ray z'l. "I met him in 2003 and after a long, exhilarating visit one bitterly cold Sunday afternoon, he agreed to teach me," Linda says. "I would visit with him every few weeks for nearly two years and he'd teach me the requisite techniques, from cutting the quill to writing the letters, and share stories about his incredible past."
At that time, Dr. Ray was also mentoring a Reform Rabbi, Linda Motzkin. The two commiserated about the difficulty of purchasing scribal materials in a world where female scribes did not exist. "No one would sell us parchment, ink, or quills," Linda recalls. "I told her how my husband (z'l) would buy supplies for me and she relayed that she would send in a male friend to make purchases for her. To avoid such subterfuge to acquire materials for our work, Rabbi Motzkin researched the process and started making her own parchment."
After Dr. Ray passed away, Linda approached a second scribal mentor, Neil Yerman, about working together. She spent four days a week in the summer of 2005, learning how to repair and restore sifrei Torah. Linda felt confident that she was well prepared, and began to seek a Torah project to begin her scribal career.
Five Females Writing Torah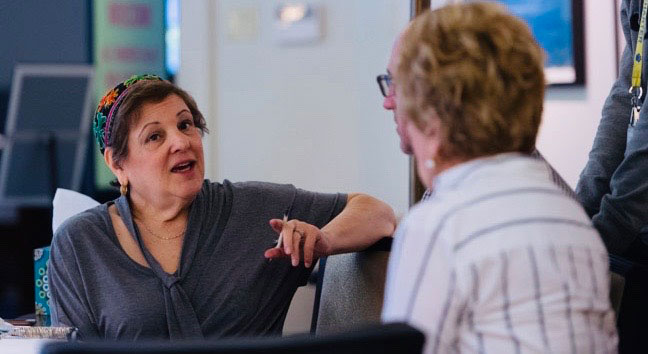 The first project Linda worked on was the perfect culmination of her journey. She had heard about the Women's Torah Project, a new Torah commissioned by Kadima, a Reconstructionist congregation in Seattle, Washington. She was one of five female scribes who ultimately completed that scroll. "When we met in Seattle to sew together the pages we had all written and dedicate the Torah, we felt like we were part of something new and historic for women in Jewish life," Linda shares. "It was the first Torah written exclusively by a group of women."
Congregation Beth Elohim in Brooklyn, New York, commissioned Linda for her first solo Torah writing project—one of five she has since completed. She is currently working on a sixth scroll for Temple Sinai in Pittsburgh, Pennsylvania. "The materials issue has loosened up some," she reflects about her time as a female scribe in a previously all-male profession. "Right now, I have a few sources I call on for materials and they know I am writing Torah. Torah writing by sofrot is not accepted in all Jewish circles, but there is more awareness that changes in Jewish practice and Halacha are occurring, somewhat incrementally, but happening nonetheless."
Linda is proud that she and her female colleagues are changing Judaism as they grow in numbers, experience and exposure. Yet it's the little moments of her work she relishes most. "What I find really rewarding is visiting the congregations periodically during the 14 months or so that it takes to complete a Torah," she says. "It's a very solitary profession so when I visit the synagogue I am writing for, meet the people, see how moved they are when they see the process of Torah writing up close and hold my hand as I write a letter, I feel connected to them and to the chain of scribes who came before me, and my love of Torah and my spirit are renewed."
These personal experiences make being a scribe as rewarding and beautiful as the writing itself.
Want to discover more about Linda and other female scribes? Click here to get started.
A Scribal First

In September 2007, Jen Taylor Friedman, a scribe with whom Linda spent nearly two years studying the rabbinic texts about sofrut, became the first woman known to complete a Torah scroll. Before that, historical evidence seems to confirm that women scribes wrote prayer books and Jewish-themed list of Proverbs or even Psalms, Megillot or Psalms, but not Torah, mezuzot, or tefillin.

Mentoring the Next

Just as Linda's mentors shaped who she is, she is doing the same for the next generation. Over the past few years, she has taught two female rabbinical school graduates how to clean and repair Torah scrolls, including fixing flaky letters, patching tears and sewing seams. "It's very satisfying to clean a Torah and see the letters, crisp and clear, reemerge on the parchment," she says.