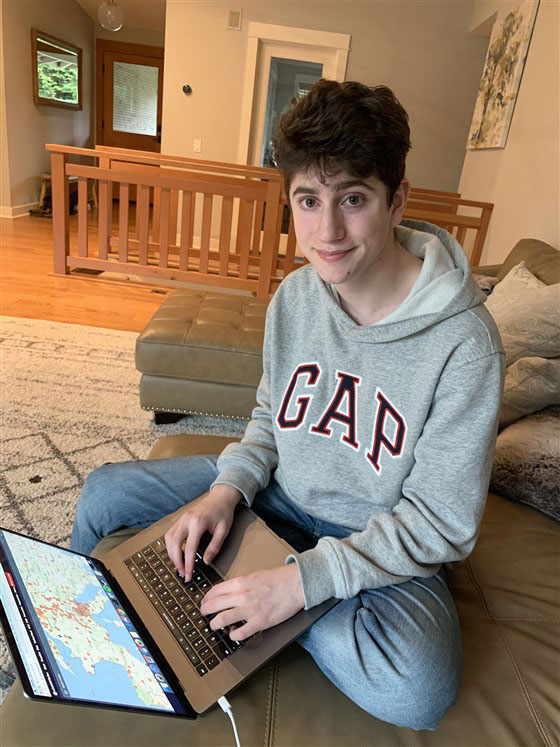 People searching for the most up-to-date statistics on the Coronavirus outbreak need to look no further than ncov2019.live—a website created by Avi Schiffmann, a 17-year-old Jewish teenager living near Seattle, Washington. It's currently a top-visited site with more than 100 million visitors—60 percent of whom live outside the U.S.
Avi came up with the idea in December 2019. At the time, there were no confirmed cases outside of China, yet conflicting reports and misinformation regarding Coronavirus infections were already circulating. He created the site, "mainly to get the data clear and concise," he told the Today show. "It shouldn't be hard in a global pandemic like this. You should, as a citizen, be able to get the information you need."
Hailed by many as a "whiz kid," this self-taught coder designed a dashboard that lists the number of confirmed COVID-19 cases per country and per state, in addition to tracking the number of recoveries and deaths. By utilizing web-scraping technology, the site pulls information from reputable websites worldwide, including the World Health Organization and Centers for Disease Control and Prevention (CDC), and downloads them to ncov2019.live, which initiates instant data updates.
The site also features a Twitter feed, a list of Coronavirus symptoms, and information about what people can do if they think they're infected. Additionally, there's a "Buy Me a Coffee" tab where people can make donations.
When asked how he learned to do this, Avi explains, "I've been programming for about a decade now, but I've only been doing web development for a couple of months," he told DemocracyNow.com. "You can learn anything online. If I didn't know something, I searched Google and eventually got it to work."
With schools currently closed in the Seattle area, this high school junior says he can work late into the night, without worrying about waking up early. He has also recruited other students to help him with enhancements. Ambitious and motivated, Avi is currently translating the website into 30 different languages and developing a Coronavirus vaccine tracker to provide updates on clinical trials being conducted.
Avi's curiosity and drive have placed him in the global spotlight. The CDC has recognized his work, and he's been interviewed by The New Yorker, the Today show, and Times of Israel, to name a few. He has also received hundreds of internship and job offers from the health sector, as well as other startups, investors, and local tech companies.
Despite all of the media attention, Avi says he only created the site to be creative and make an impact. "I want to have the skills to make the next big thing, to change the world. I'm not interested in imitating anyone else. I want to be the next Avi Schiffmann," he says.
In the future, Avi plans to change the site's name. He recently purchased the domain germtracker.com because it's easier to remember, he says, "but also because there's sure to be another global pandemic, and I'll be the first to track it."
About Avi

• He's the son of a physician and a biologist.
• His family has lived in the U.S., Israel, Ireland, and the U.K.
• He was just 7 when he taught himself to code.
Want the latest updates on the Coronavirus? Visit Avi's site at ncov2019.live. USCJ also has Coronavirus resources available at https://uscj.org/uscj-coronavirus-resources.