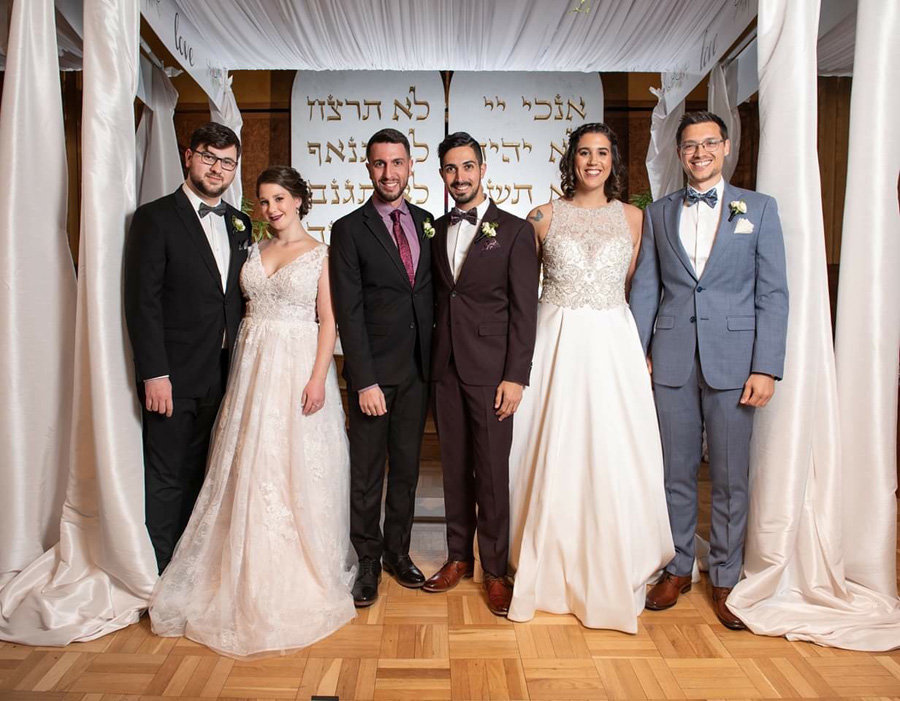 Shmuel Carmel was born in Israel, served in the Israel Defense Forces and devoted his life to Judaism. But because his mother was deaf and could not "hear" the words of Torah when she converted to Judaism from Christianity, the Chief Rabbinate didn't recognize her conversation and, therefore, Shmuel was not considered Jewish and could not legally marry the woman he loved in his homeland.
As a result, Shmuel and Anat Carmel traveled this spring to Washington, D.C., with two other couples—one gay and transgender and the other a Reform couple—to have an official wedding they would never forget. The event was presented jointly by Reform synagogue Washington Hebrew Congregation (where the event was held) and Conservative synagogue Adas Israel Congregation, in partnership with USCJ, the Masorti Foundation for Conservative Judaism in Israel and the Reconstructionist Rabbinical Association.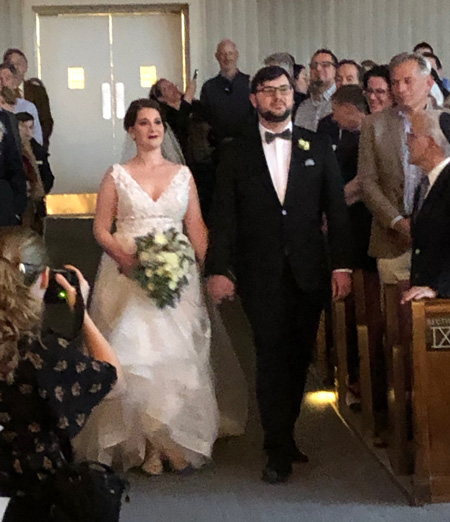 Shmuel's story is similar to other Israeli couples, whose marriages are not recognized by the State of Israel and the Orthodox-controlled Rabbinate because they were either performed outside sanctioned religious authorities or the partners were interfaith or same-sex. Currently, all citizens must have an Orthodox ceremony by an Orthodox rabbi for their marriage to be accepted, or can choose to have their wedding abroad and be recognized as married once they return.
"It was heartbreaking knowing that I could not get married in my home country," says Shmuel. "When we came to the United States for the wedding, people were simply buzzing with excitement about us. The Jewish communities in America are filled with so much love and are simply waiting for an opportunity to spread it around."
Complete with the breaking of the glass, dancing the hora and an audience of more than 1,000 guests, the ceremony included both Conservative and Reform rabbis blessing the three couples. The couples also had the opportunity to share intimate moments with their loved ones under the huppah (Jewish marriage canopy). "As a gay man living in Israel, I never imagined having a Jewish wedding and having such a positive experience in relation to my Jewish faith," says Aviad Taz. "Being able to come to America and get married meant so much. It was also a once-in-a-lifetime experience that allowed us to bond with exceptional people who showered us and Israel with love."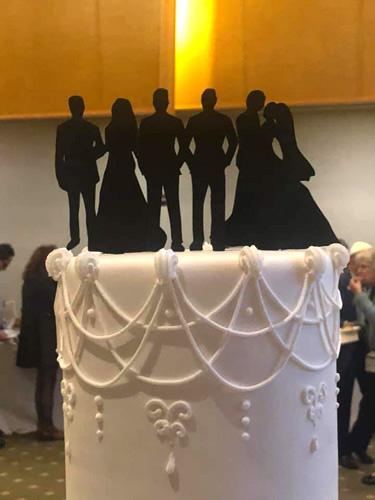 Four years prior, Aviad and his husband, Tsion had a wedding ceremony in Tel Aviv surrounded by friends and family. Although Conservative and Reform Jews have long accepted same-sex marriage, it is prohibited in Orthodox Judaism—meaning the marriage was not recognized in the couple's home country and their IDs still listed them as single. "We have not really accepted this, which is why we wanted to be a part of this event," Aviad says.
Since Ilia Rabkin and Sahar Malka are both considered Jewish by the Halakha, the pair had the opportunity to get married through the Chief Rabbinate of Israel. Instead, they decided to have a non-recognized Reform wedding in Israel. "We were hurt, so our answer was to have a beautiful, equal ceremony with a Jewish spirit," Ilia says. "We were offered this amazing opportunity to stand up for what we believe in after our first wedding in Israel wasn't recognized and I could give my husband his ring and read him his vows."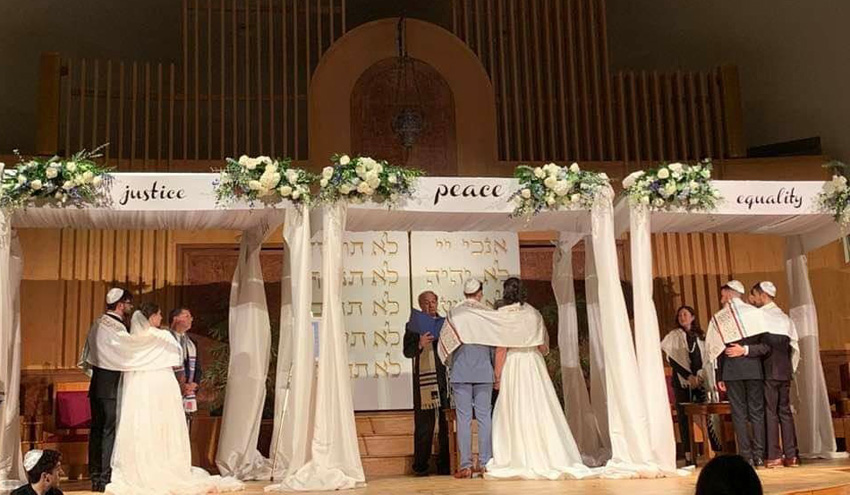 The highlight for Ilia and Sahar came from the warmth and generosity presented by the Washington, D.C. Jewish community, who volunteered to host the couples in their homes, help the brides with their dresses and cook food. "It's almost unbelievable how close we became with everyone during the short period of time we were in the United States," Sahar says. "The host families, community members and other couples who were married with us became instant family. We could feel the love and support at every step."
Despite leaving Israel to have the formal wedding they've always dreamed about, all three couples maintain their love and admiration for their home country. "Israel is truly an amazing country with a rich and long history of people showing love to one another," says Shmuel. "We just think Israel can be better and allow all types and lifestyles of Judaism."
Click here to watch their wedding ceremony.