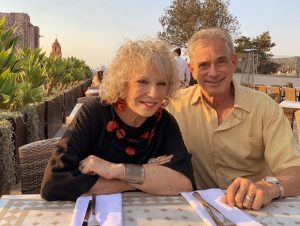 A few hours north of Mexico City, Mexico, lies the city of San Miguel de Allende, a popular destination named by Travel + Leisure magazine as the "World's Best City" in 2017 and 2018. With many Americans and Canadians visiting the city for its remarkable colonial architecture, local Mexican cuisine and beautiful art scene, a growing number are staying for a much different reason.
Nestled in the southern part of the city is the Jewish Cultural and Community Center (JC3), a building that houses the Comunidad Hebrea en San Miguel de Allende, Asociacion Civil (CHESMA AC). The organization is nondenominational and serves as the umbrella for a number of San Miguel Jewish groups, most notably Kehilla Shalom San Miguel de Allende, a Conservative congregation that offers weekly Shabbat morning and Holy Day services, Torah study classes in both Spanish and English and more. Recently, the community also held its first weekday shacharit (morning prayer) service.
Many of the congregants, such as Michigan-native Charles "Carlos" Soberman, are expats from the U.S. or Canada who live in San Miguel for a good portion of the year. Soon after selling his Detroit paint company in 1996, Carlos, a member of Shaarey Zedek synagogue in Detroit, began learning Spanish as a hobby while traveling to various Spanish-speaking countries. After spending a week with his wife, Linda, in San Miguel, the two fell in love with the city and in 2006, purchased a home.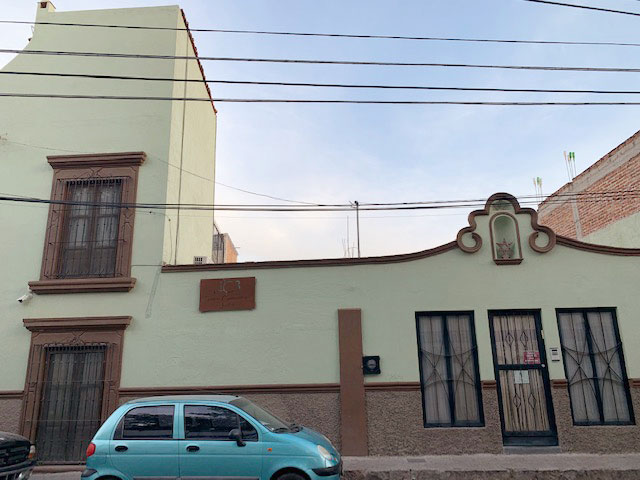 While the beauty and charm initially drew them in, it was the small, but flourishing Jewish community that helped convince the couple to spend up to nine months a year in San Miguel. "I doubt we would have considered living here if it wasn't for the Jewish community already present," Carlos says. "Linda and I almost immediately got involved with the San Miguel Jewish world and have met so many amazing Jews here from all over the globe."
Carlos first discovered what Judaism in San Miguel had to offer while reading Atención, San Miguel's only bilingual newspaper, which highlighted the congregation's weekly services and upcoming Seder. When the Sobermans first arrived in San Miguel, the community consisted of about 30 people who met for weekly Shabbat and holiday services in the reading room of a nearby hotel. "I was very happy with the Jewish presence when we first moved here and made several fantastic Jewish friends, but the community was still very low-key up until 2013."
Alongside Dr. Dan Lessner, a retired New York pediatrician who often leads services and was critical in growing the congregation, Carlos contributed to the growth of the San Miguel Jewish community by negotiating the purchase of the JC3 building in 2013. He also did a significant amount of the fundraising it took for the congregation to have its own Jewish home.
"When we signed an agreement to purchase the building, we didn't have a 'peso' in hand and had 60 days to raise $100,000 USD," Carlos says. "Thanks to hard work and the generosity of friends, we not only raised all the money, but paid off the balance in only two years."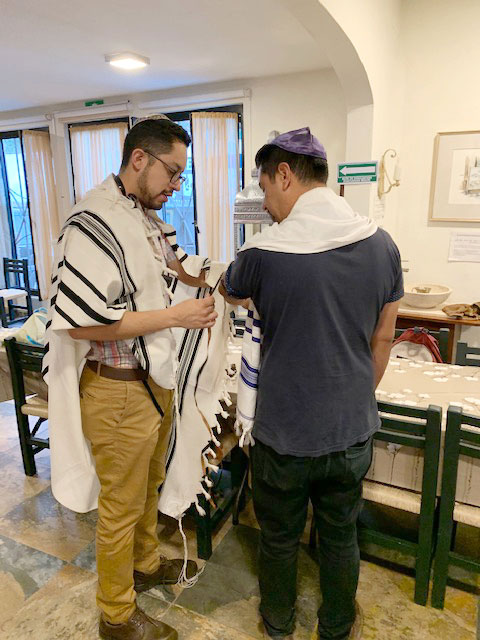 But that's not all. Significant upgrades have also been made, including renovating the bathroom, kitchen and sanctuary, consolidating the second floor into a library and classroom and building an apartment for visiting rabbis or scholars to stay. The community also built a mikvah (ritual bath) and even established its own beit chayyim (Jewish cemetery), in which members can purchase single or double plots for a fraction of the cost elsewhere.
More significant than the upgrades to the center in recent years has been the insurgence of members who have joined—specifically those born and raised in and around San Miguel. Of the roughly 198 members today, 70 Mexican natives have gone through the congregation's conversion class under Rabbi Juan Mejia, who began offering classes in 2011.
A Colombian convert educated at USCJ's Conservative Yeshiva in Jerusalem and now residing in Oklahoma, Rabbi Mejia credits the internet and freedom of choice as two reasons why the Mexican community has taken such an affinity to Judaism. He shares, "San Miguel has managed to hit the sweet spot, where you get the American Jewish tradition and openness with the exuberant Mexican intensity. As a result, there's a beautiful blend in which expats are invigorated by the Mexican passion and in many ways, can teach Mexicans more about Jewish sensitivities and how to 'do' Torah."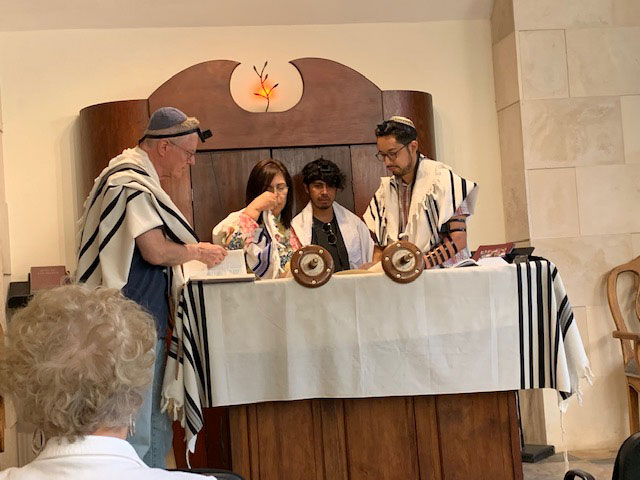 With definite differences between the two groups, specifically a language barrier, what makes the San Miguel Jewish community so unique and special for Carlos? "Everything," he says. "Even though we may not know each other's languages the best, we're all brothers and sisters as Jews and always communicate and talk with each other," Carlos says. "Hebrew is the predominant language of worship and our siddurim and machzorim (prayer books) are completely translated and transliterated into both English and Spanish. I've been to other congregations around the world where I didn't feel a desire to welcome me in the Jewish community, but here is the exact opposite—this is like home for me."
To read more about the history of the Jewish people in Mexico, click here.