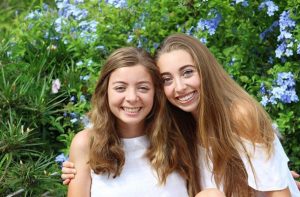 When people picture what it means to live in a diverse society, many envision individuals of all races, religions and genders coming together in harmony. But as 17-year-old Jordan Tralins recently pointed out to her synagogue Congregation B'nai Israel of St. Petersburg, there's another component of diversity that can't be overlooked—ability.
During Jewish Disability Awareness and Inclusion Month in February, Jordan took part in her synagogue's special Shabbat of Inclusion event, where she spoke about her passion for helping others, a moment that forever changed her perception of the special needs community and the girl who started it all.
Power of Tikkun Olam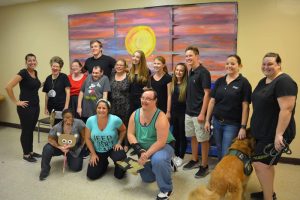 Years have passed since Jordan was a student at the Pinellas County Jewish Day School in Clearwater, Florida. Yet, the lessons she learned as a 5th grader have remained deeply engrained. "I learned at a young age that one of the things that makes Judaism really unique is that there are so many values that encourage treating others with respect and loving your neighbor as yourself," she says. "To me, tikkun olam starts with looking at how we can repair our relations with others."
Jordan walked this talk during high school (she will graduate in May), when she worked as an art and music instructor at PARC, an organization that provides life-changing opportunities for adults and children with developmental disabilities. Students range from those with development delays, to others with Down syndrome and autism.
"Ever since I was little, I felt really drawn to helping the special needs community and considered it my duty as an American and Jewish citizen to find ways to give back and leave the world better than I found it," Jordan says. "The people at PARC have taught me so much about inclusion. Everyone wants to be your friend and they accept and embrace people of all different religions, races and political beliefs."
Hear Me Roar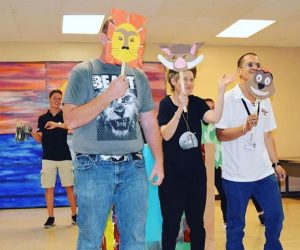 Jordan also has a passion for theatre and loves having the lights and camera shone on her. But on a summer evening before her junior year of high school, the roles were reversed as she proudly watched 30 PARC participants perform an original rendition of The Lion King.
A few months prior, Jordan had approached PARC's arts administrator and music therapist Mattie Mingst about creating a summer performance program that allowed her and her fellow thespians to show participants of all learning backgrounds the beauty of theatre. Twice a week, they taught 30 PARC adults acting, singing and dancing, while also choreographing the production.
When it came time for her students to perform in front of family and friends, Jordan didn't see Down syndrome, autism or cerebral palsy from her director's chair. Instead, she saw a talented group of individuals performing and an audience moved to tears. For Jordan, the young man who played Simba really stood out. "Here's someone who came to us very shy who would often sit and watch instead of participate," she says. "But on the day of the show, he performed in front of hundreds of people with the biggest smile I've ever seen on his face."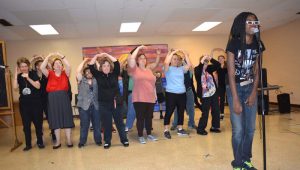 Jordan's vision for a summer program has since transformed to something bigger. Last year, she created SPARC, a club at her own high school that now has more than 50 members who volunteer at art shows, athletic competitions and prom nights for special needs adults.
Jordan's impact has also been felt at her synagogue. "If someone comes to our synagogue and it's too loud, do they have a place to go?" says Rabbi Philip Weintraub. "If someone has an assistance device, do people stare at them? These are just some of the questions we've began asking ourselves. Whenever we think we're finished, we need to stop patting ourselves on the back and keep going."
The Spark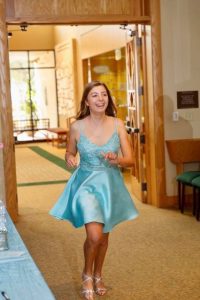 So how does a busy teen balance work within the special needs community with school, theatre, preparing for college and volunteering at organizations such as the American Cancer Society? For Jordan, the answer is easy: Ella.
Despite being mostly non-verbal until the age of 6 and having no specific diagnosis, nothing has stopped Jordan's younger sister, Ella, from having a fulfilling life. Now 14, Ella competes in the Special Olympics, had her Bat Mitzvah a little more than a year ago and attends Hebrew school every week. "My sister is someone who finds balance in having a routine and Judaism has definitely provided that for her," Jordan says. "Our temple is somewhere she can go each week to sing and feel a part of the community."
Read more about Ella's impact in this excerpt of the speech Jordan gave to her synagogue congregation at the Shabbat of Inclusion event:
When an entire summer-long culmination of patience, teamwork and determination made its debut, the seed for it wasn't planted when I founded this summer theater program, wrote this script, designed these costumes or directed this play. That seed was sown many years ago by my little sister Ella, who was 6 before she could even say my name.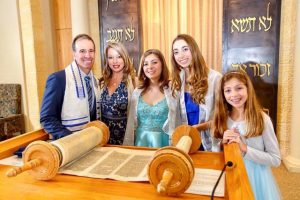 Memories of Ella and myself as children pirouetting in sparkly fairy wings and tutus dance around in my mind as I adjusted Nala's headpiece. I remember using my imagination to create and share technicolor fairytales with her; my communication skills were thrown into overdrive because I wanted to speak for the little girl who, aside from saying "mama," was still unintelligible at age 4.
I'd describe her diagnosis a decade ago of "intellectually disabled" as a crushing blow to our family, but not a surprise. For years, I had been Ella's playmate, sister and best friend, but being thrust into the special needs world made me realize the importance of my role as her advocate.
Over the years since Ella's diagnosis, I've come to understand that people with intellectual disabilities view life through a different lens. And if everyone could borrow Ella's kaleidoscope, they'd hopefully see the beauty that she has shown me.
To read Jordan's entire speech, click here.
Watch as Rabbi Lauren Tuchman, a blind woman, teaches us another way to look at inclusion.