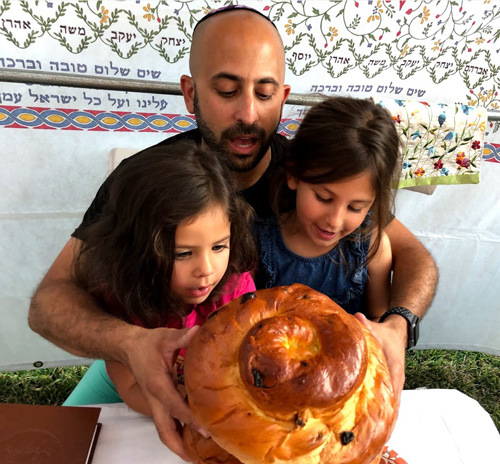 As far back as Gideon Manzur can recall, he helped his father plan and build the sukkah in their backyard every year right after the high holidays in anticipation of Sukkot. First, the 10-by-10-foot structure would go up. Then, his father would take Gideon and his brother in the family truck to nearby train tracks lined with palm trees, where they would cut fronds for their s'chach (roof covering). Back home, they would assemble the roof before the decorations would go up.
"Part of the fun of decorating was we always hung pictures we did in grade school and Hebrew school," Gideon shares. "Another tradition we did for many years was make paper rings out of any paper we could get our hands on, which was usually old magazines my father would cut into strips. Later, I worked for Kinkos so we would get paper for the rings from there. We did that every year—in fact, I'm already talking to the family about building it for this year."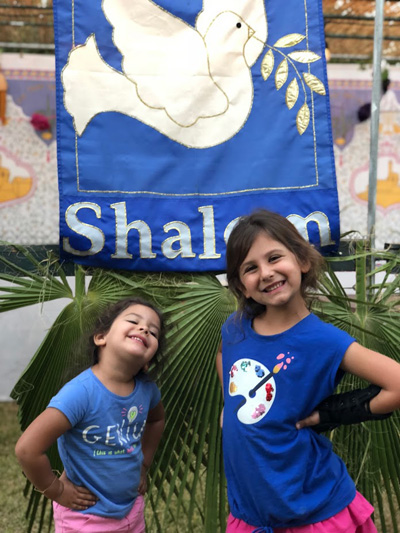 As Gideon grew into an adult, married and had his own children—two daughters who are now 6-and-a-half and almost 4 and attend pre-school at Temple Etz Chaim in Thousand Oaks, California, where Gideon serves as executive director—the sukkah has been a meaningful tradition he looks forward to sharing with them each year. As the family has grown, their sukkah has grown along with it to 21 feet long by 7-and-a-half feet wide. And like Gideon did with his own father each year, the family ventures out together to cut covering for their s'chach and then adorn the sukkah with dried fruits and other personally meaningful decorations.
One tradition Gideon and his wife have with their daughters is to take a photo in front of the sukkah each year and hang it alongside previous years' photos. "You actually see the progression of the kids growing up in front of it," he says. One of his eldest daughter's very first—and most cherished—sukkah photos was when she was still in her mother's belly.
While Gideon's daughters have yet to sleep in the sukkah like he and his brother did on the weekend as children, he knows they are growing up fast and the time will come. "They're scared but as they get a little bit older, they'll be more ready and realize there's nothing scary in the backyard," he says. "I'll just have to remember to turn off the sprinklers."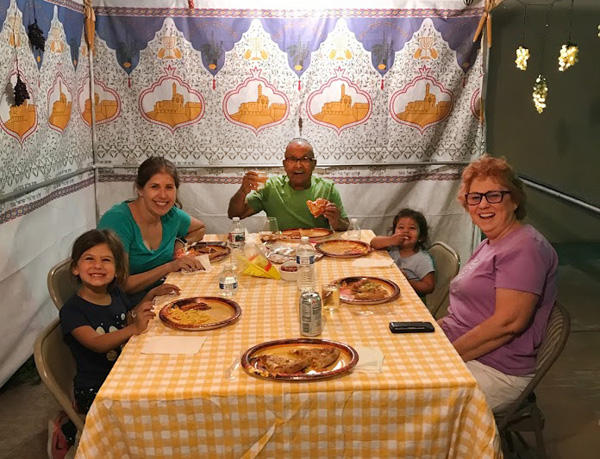 Meanwhile, they embrace the experience in so many other ways. Some of Gideon's favorite memories are of his daughters climbing the ladders to hang dried fruit and decorations. "They're so excited to be part of the decorating and then to have the family over to share the traditional meal," says Gideon. All week long, the family enjoys dinner together in the sukkah with the sun setting and stars appearing through the s'chach. Even before dinner is ready, the girls often make their way out there to play.
When Gideon thinks back on sharing special sukkah memories like these from one generation to the next, he is thankful to his father for not only teaching him how to be Jewish, but also the meaning of each of the Jewish holidays. "This is now even more important because this past May, my father passed away, so to have those memories and for us to continue them to keep his memory and joy alive even though he can't be with us to celebrate is very special."
From One Parent to Another…

Gideon has this advice for parents as they navigate the sukkah experience with their own children this October: "Let your kids decorate the sukkah however they want. It might not be as clean and organized as you'd want it, but letting them put their own spin on it will make them feel like, 'This is my sukkah.' Don't be strict and rigid; it's more enjoyable when your kids can decide and make it their own."
Need ideas for decorating your sukkah this year? Click here for some craft and decoration ideas you and your kids will love.