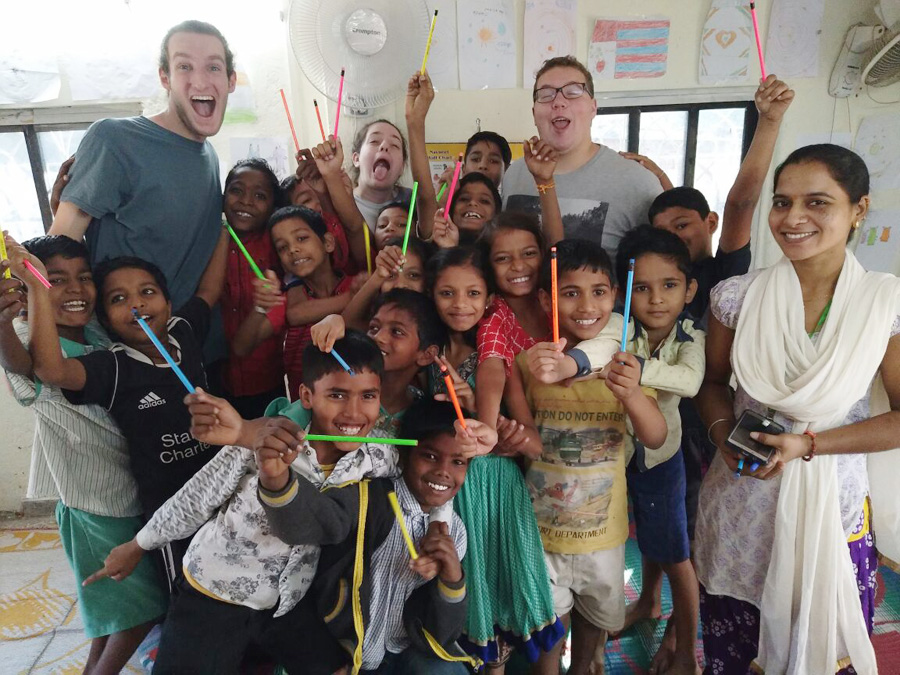 India is a country like no other. With its sights, smells, sounds and tastes, India boasts a colorful culture and a beautiful chaos. For a group of nine students and one staff member with the Nativ College Leadership Program in Israel, a three-week trip to India proved to be both inspiring and life-changing. They spent this time volunteering with Gabriel Project Mumbai, a non-profit organization that promotes holistic development and empowerment for marginalized communities in the villages and slums of India.
This is the second time (with a third in the works) the Nativ program traveled to India over winter break at the start of the year. Nativ Director Yossi Garr, who went both times, says the idea for the trip came two-and-a-half years ago when he reconnected with a Nativ alumni working for JDC in New York City. "We were schmoozing and she told me she was running alumni volunteer programs around the world through JDC Entwine and thought Nativ alumni would be interested," he recalls. "I suggested that instead we do a special group of Nativ students."
Yossi knew the trip was beshert (destiny) when he discovered his JDC contact worked with Gabriel Project Mumbai, whose director lives in Yossi's same neighborhood in Israel and attends the same synagogue. "Knowing all the right people, it really worked out well," he says. "It was also important to me that we go to India to do something meaningful—so not just to tour the country, but to work and volunteer."
The once-in-a-lifetime trip was ultimately offered to all Nativ 37 and 38 students, who gave up their break and the opportunity to travel to other places—like Poland—to go. In the first year, most volunteer days were spent in the slums of Mumbai; the second year they volunteered in the slums of Kalwa and in the school system of Ashte village. "It was very special," says Yossi. "Over Shabbat while we were there, we were able to spend it with the Jewish community."
That's right—India has a very small Jewish community spread throughout Mumbai, but most Indian Jews have immigrated to Israel. The community that remains is a mix of Jews who've been there for hundreds of years and those who came from Iraq 150 years ago. "It's a very interesting community and we were so lucky to be able to spend time with them," says Yossi. In fact, the group spent an entire day learning about India's Jewish history and even visited old synagogues, too.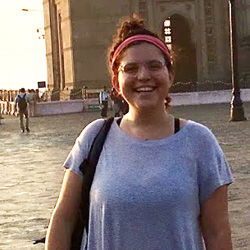 Interacting with these Indian Jews was a definite trip highlight for Nativ staff member Adina Beiner. "I had no idea what to expect and while the Jewish community is getting smaller in India, there is such an interesting and full history of Jewish life there," she shares. "Beyond that, even in a place so far away, to be able to go to synagogue and sit down at a Shabbat dinner was such an amazing experience. While Jewish life certainly looks different in India, there are universal Jewish elements that are the same around the globe."
To prepare for the trip, and specifically for working in the slums, Nativ staff spent several days working with the students; they planned lessons since they would be working in a village school system and they also learned about cultural differences and Hinduism. Once in India, the group continued to meet daily to debrief and de-stress from the heaviness of it all through some fun, touristy activities like visiting the Taj Mahal and Jaipur.
Nativ staff member Abby Newman was particularly helpful with lesson planning since she worked as a first grade teacher the year prior. "I knew I could use my knowledge of teaching to assist the Nativers in their lesson plans and also my love of travel to enhance their experience abroad," she shares. "I was also interested in exploring another culture, which I was able to do by having conversations with local people."
The group was surprised by the positivity that stemmed from their experiences in India, despite having prepared for the opposite. Abby was amazed by the generosity of the people of Ashte, who were struggling to make ends meet yet so giving. "Our neighbors gave us home-grown papayas each day, another neighbor invited us into their mud hut for Chai tea and the children next door played with us in their free time," she says. "Their happy spirits and willingness to get to know us despite the language barrier was surprising and also inspiring."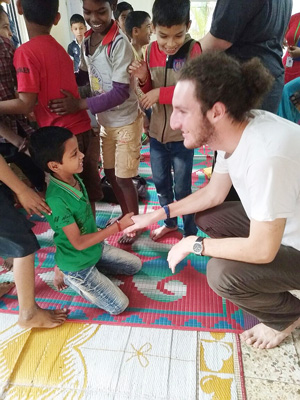 Meanwhile, many were shocked to see the poorest and richest people within one lens. "The contrast was unforgettable, " says Noah Lee, a Nativ student on the inaugural trip. "In Mumbai, there is both extreme wealth and extreme poverty. The Taj Hotel sits near a fisherman's wharf with people living in their boats. Fancy restaurants are surrounded by people starving on the streets. Wealthy travelers on the train pass thousands of slums every day. It was extremely saddening to see those with so much contrasted by those with so little, and I was constantly reminded of how broken our world is."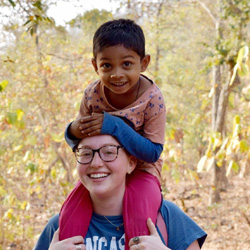 At the end, the group also realized they have a lot in common with the people of India. Amanda Gottlieb, a Nativ student on the trip, shares, "I felt there were a lot of commonalities between us and the people we met in India. Their life values align greatly with ones from North America. For example, their family is incredibly important to them, and they are kind, genuine, generous people."
Abby adds: "I believe that despite cultural differences, humans have the same values in common and want to have meaningful interactions with others. People there were caring, kind, respectful and desired success. In conversation with some of the locals, I realized that everyone just wants to get to know other people and the cultures from which they come."
The group also agreed the trip was quite impactful. As Adina describes it: "It is really easy to get caught up in day-to-day life and forget there is so much out there in the world. This trip not only taught me about a new culture, part of the world and problems that exist, but it also reminded me that my lifestyle and piece of the earth is only a fraction of something so much bigger. There is so much out there in the world—good, sad, exciting and tough. It is important to get out of one's comfort zone to learn, help where we can and think beyond our small corner of the world."
Noah adds that, for him personally, the trip was perception altering. "It sparked in me an urge to no longer take for granted education or food, and also served as a tangible and constant reminder that the world needs a lot of healing," he shares. "It made me aware of cultural and societal issues that would not have been important to me if not for the trip. Basic government structures that benefit the few and marginalize many manifest in so many ways both in India, Israel and the states, and it is incumbent upon us to be constantly critical of the systems that operate our lives in order to alleviate unnecessary struggles."
Read this blog Nativ student Abby Saltzman wrote about her India experience.
Watch this video from the Nativ India trip!
Issues in India

These are some of the most serious challenges poor Indians are facing right now, and why Nativ chose to go there to volunteer and work:

Health: Poor hygienic conditions make life miserable for those living in the slums of India. About one-third of Indian children suffer from lung problems from the pollution and unsafe living.
Work: Lack of access to job training and opportunities continue the poverty cycle for Indian families. Delhi and Kolkata have many jobs available, but only for skilled workers.
Education: The Indian educational experience is decidedly lacking. Densely populated areas, like the slums, have an inadequate teacher-to-child ratio. Plus, conditions are so poor and supplies so scarce that students barely have the chance to learn.