In a few short weeks, we will gather around seder tables with family and friends to retell our story of freedom from slavery—a story that has shaped our Jewish community, consciousness, and values for generations.
However, there are still millions of people who have no such story of deliverance because slavery is unfortunately still part of their everyday reality. The International Labor Organization reports that 21 million people are currently enslaved or victims of human trafficking worldwide. The majority of these people are female, and a quarter of them are children.
Already deeply committed to social action, congregants of Ahavath Achim Synagogue (AA) in Atlanta, Georgia, were personally touched by these alarming statistics after hosting a survivor and several activists in their community almost seven years ago.
"I was aware of the problem because I had worked with kids as a court-appointed special advocate, but hearing these speakers was a stark realization of how prevalent the problem is, especially in Atlanta," says community member Linda Bressler. "Once we knew about it, we couldn't turn our backs."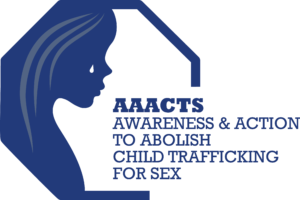 The result was AAACTS, which stands for Awareness & Action to Abolish Child Trafficking for Sex, and was the recipient in 2015 of the USCJ Solomon Schechter Highest Award for Innovation and Impact for Prophetic Voice.
Upon the formation of AAACTS, Linda, who co-chairs the committee with Margie Eden, began speaking to friends and synagogue members and inviting them to join. As new members joined, the group committed themselves to becoming familiar with the issues and how AAACTS could have the greatest impact.
"Although this can be a faith-based issue, there were no other active Jewish groups working to eliminate these issues. So we really saw ourselves becoming the convener of synagogues to support a mission of awareness, action, and advocacy," shares Linda.
AAACTS, which has grown over the years to include members from other local synagogues and churches, has stepped up to meet this mission in many ways. They have hosted community-wide events featuring panels of experts, and informational tables to help people learn how to make a difference. They have been involved in implementing local airport awareness and employee training programs, and have partnered with a local ministry to pack "Blessing Boxes," which are distributed to kids who are hungry and vulnerable through the local school system.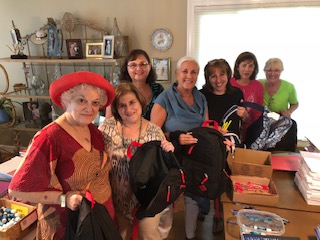 Additionally, two years ago, AAACTS began collaborating with Georgia Cares, the organizational entry point for children to get the care they need once they are rescued from human trafficking. Georgia Cares collects backpacks filled with school supplies to distribute to these rescued children around back-to-school time. AAACTS was able to provide backpacks for 220 rescued kids the first year and another 260 rescued kids the second. Of the 260 kids they helped this past year, 60 of them were elementary school age and included both girls and boys.
"The demographics are changing and more boys are now being trafficked," Linda says. "The challenge is all the residential therapeutic programs here were previously for girls. A center for boys is finally opening up this month. We've been able to tour the new facility and it's just incredible."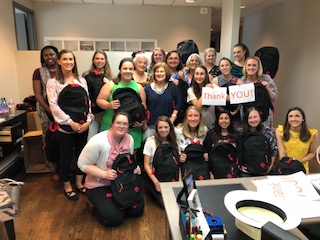 AAACTS has also had an impact by sending representatives into Atlanta's adult entertainment establishments (bars, restaurants, hotels, and motels) to make sure they are adhering to a Georgia law that requires them to post signs informing of the National Human Trafficking Hotline. These visits have been performed in the downtown area as well as in surrounding suburbs, where research shows 65% of the men who buy sex slaves live (often with wives and children).
The group also attends Anti-Sex Trafficking Lobby Day annually at the Georgia State Capitol. They work beforehand to become familiar with legislation in consideration of passage. "We speak with our state representative and senator and tell them who we are, what we're doing, and why it's important," explains Linda. "A few years ago, we were involved in the Safe Harbor Act, a constitutional amendment passed by Georgia voters while we were at the Capitol. We helped get the vote out, which was the largest vote for a constitutional amendment in Georgia history, with 83% voting 'yes.'" The group also works with the International Human Trafficking Institute in Atlanta on training and serving as ambassadors in the community.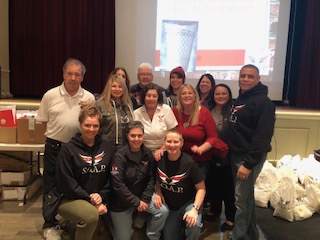 Since research show increases in human trafficking activity during large events, AAACTS joined forces with The SOAP Project when the Super Bowl came to Atlanta in 2019, and they'll do it again when the 2020 NCAA Final Four college basketball tournament comes in April. Theresa Flores, who was trafficked as a child, created the program in 2010 after realizing that often, the only time victims are left alone and can reach out for help is in a hotel or motel bathroom. The project distributes soap labeled with the National Human Trafficking Hotline to hotels and motels around the country. AAACTS gathered 230 volunteers to label soaps on a Sunday before the Super Bowl and they are preparing to do it again later this month.
"We put together packets with over 60,000 soaps and information about human trafficking that we distributed throughout Atlanta before the Super Bowl," says Linda. "I have never seen such enthusiasm with a group of volunteers. We also distributed flyers showing missing children in the area. Within 15 minutes of the groups going out, we got a call from a hotel desk clerk who recognized one. As the day went on, four more were identified. It had incredible results."
Through their work, the people involved in AAACTS have no doubt come across some of the darkest, most horrible stories imaginable. But when they meet survivors, hear their stories, and see how they've recovered, they feel inspired to do more. "These are some of the strongest, most resilient people, and they are now living safe, purposeful lives following rescue and rehabilitation," she says. "We always talk about being a synagogue and Jewish and about our own experience with slavery. Having the opportunity to advocate for these children who are especially vulnerable and have so little voice is what keeps us going."
---
Facts About Human Trafficking

Human trafficking wasn't illegal until 2000, when the Trafficking Victims Protection Act was passed, which made it a federal crime.
The United States, along with Mexico and the Philippines, was ranked one of the world's worst places for human trafficking in 2018.
Since 2007, more than 49,000 cases of human trafficking in the U.S. have been reported to the National Human Trafficking Hotline, which receives an average of 150 calls per day.
More than 300,000 young people in the U.S. are considered "at-risk" of sexual exploitation, according to the U.S. Department of Health.
Children are more vulnerable than adults because they are easier to control, and less likely to demand proper working conditions.
Children raised in foster care have a greater chance of becoming victims. In 2013, 60% of the child victims that the FBI recovered had been in the foster care system.
---
Red Flags of Modern Slavery
"It's all about opening your eyes. If you see something suspicious, call 9-1-1 or the national hotline and report it. It's everyday people who can make a difference," says Linda. Here are the red flags to look for among the children in your community:
Unexplained absences from school for a period of time
Chronic running away from home or foster care
Inappropriately dressed for age and/or weather
Engaged in sexual situations or behaviors beyond age-specific norms
Has a noticeably older significant other
Frequent travel to other cities, living in a hotel, or possession of hotel keycards or business cards
Having received expensive gifts, clothing, or possession of more than one cell phone
Suspicious jewelry and/or tattoo branding seeming to denote ownership
Living with adults who are not biological parents (i.e. "working" for an aunt or uncle)
Responsibility for child care, elder care, or cleaning, framed as "chores"
* Source: Lifeway Network