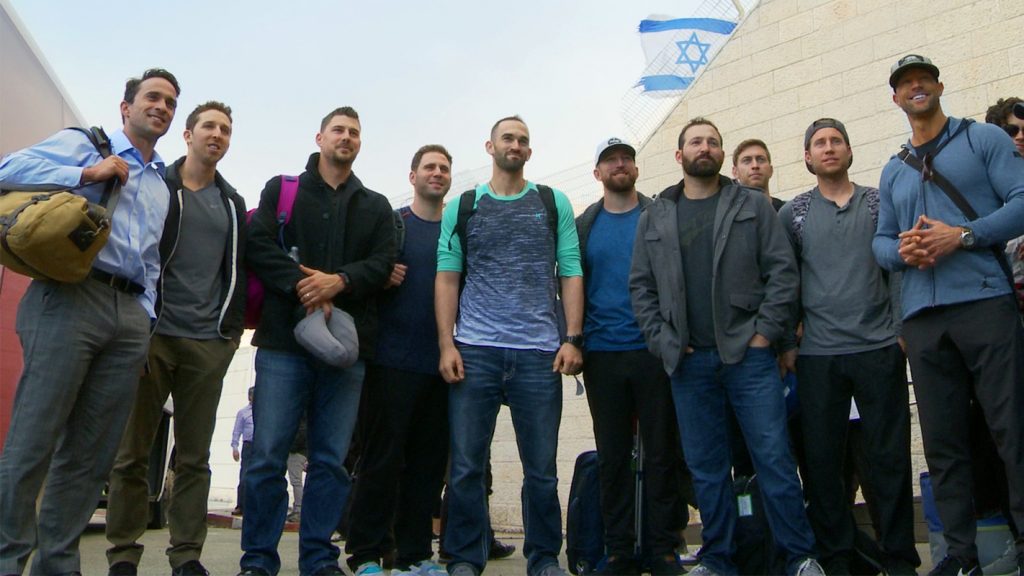 For the 28 athletes who represented Team Israel at the 2017 World Baseball Classic, an international 16-team tournament held once every four years, it was never just about the game of baseball. Even when the team, which entered the tournament ranked 41st in the world and were dubbed "MLB wannabes and has-beens", defeated then-3rd in the world South Korea in the opening game in Seoul, followed by three straight wins against Chinese Taipei (4th), Netherlands (9th) and Cuba (5th) before coming up one game short of the semifinals, it didn't matter who won or lost, who hit a homerun or who recorded the final strikeout.
Instead, the real meaning was discovered two months before the first pitch of the tournament when several American members of Team Israel took a one-week journey of self-discovery to Tel Aviv and Jerusalem. Given the World Baseball Classic rules—which state that any player who qualifies for citizenship in a country is eligible to play for that nation—nearly all players on Team Israel were Jews born in the United States. During their trip to Israel, the group prayed at The Western Wall, traveled to Masada, experienced the beauty of the Dead Sea and visited Yad Vashem, Israel's largest Holocaust memorial. This was all documented by Ironbound Films in Heading Home: The Tale of Team Israel, which began showing across several theaters in South Florida in February and will continue throughout 2019.
Check out Josh Zeid clinching Team Israel's upset victory against South Korea with a strikeout to end the game.
For pitcher Josh Zeid, who, like most of his teammates, had never had the chance to visit Israel due to a constant baseball practice and game schedule, the experience was critical in giving meaning as to why they were wearing "Israel" across the front of their jersey. "All of us needed to see who we were supporting and why we were supporting them," he says. "It wasn't about baseball—it was about the thousands of people we met on our journey and the kids we talked to who really wanted us to succeed."
For players like Josh, who played for five different Major League Baseball organizations in eight seasons, the opportunity to play for Team Israel was a chance to showcase his talent and proud Jewish upbringing. "I've worn a Jewish star my whole life and have always been very proud of who I am and where I come from," he says. "I went to a Conservative synagogue in New Haven, Connecticut every weekend with my family, I went to Hebrew school three days a week and I had my Bar Mitzvah."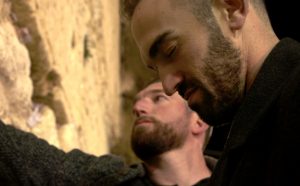 Admittedly not someone who regularly engages in prayer, Josh was overcome with emotions when he and his teammates visited The Western Wall. "At the Wall, it felt like something came over me and that I needed to start saying something," Josh says. "It was the most memorable religious experience for me on the trip. Being able to see the Wall, put my hand on the surface and pray was an incredible moment."
While the trip offered major religious highlights for both the players and documentary film crew, there were simpler moments that proved just as meaningful. "When we first got to Tel Aviv, we were in an old neighborhood that looked like nobody had lived or worked there for a while," Josh says. "We then turned a corner and saw a street artist outlining a huge portrait of [former Dodgers pitcher] Sandy Koufax in spray paint. The artist let us help in spray painting his work, which for me, was amazing since Sandy is the best pitcher on the planet in my eyes. He was a huge role model for me since he was Jewish and grew up in the same town as my grandfather."
It wasn't just the players who had an unforgettable experience in Israel. Those behind the camera were equally impacted by the trip. "As a Jew born in the diaspora, you grow up with this connection to Israel that's unique," says Heading Home: The Tale of Team Israel filmmaker Jeremy Newberger. "It's not a country you live in, but you're taught to love and support it. You then get there and have this out-of-body experience, when you're relating to all these years of learning and supporting this country. We shared in what the connection to Israel means through sports. By representing a country they didn't grow up in on the world stage, every association to Israel was put on the player's shoulders. There was a really strong connection for us as filmmakers."
By the time the trip concluded, there was no doubt in first baseman Cody Decker's eyes that this team was different from the teams representing every other country in the tournament. "For me, the trip to Israel wasn't so much about re-discovering my faith, but more about experiencing my birthright and heritage with my teammates," he says. "There's no other team that could have shared the experience of going to the Holocaust museum together and crying on each other's shoulders."
Helping bring some fun and light-heartedness to this incredible run was the team's mascot, a life-sized Mensch that Cody found online and brought to the tournament. Called "the Mensch on a bench," the mascot (which they named Moshe) joined the team every step of the way. "Anything I could do to add a little more fun and make the experience more enjoyable, I was going to do," Cody says.
Once it was time to play ball, the team felt united, confident and most of all, connected to the country they were representing. "When I put that white and blue jersey on for the first time, which looked so much like the Israeli flag, I immediately thought of my grandfather and how proud he would have been," Cody says. "It was something so special and hard to describe. It was a feeling and experience one doesn't get to have every day and for that, I'm very thankful."
Whether you're a diehard baseball fan or someone who's never seen a game before, Jeremy believes Heading Home: The Tale of Team Israel is a must-watch film for Jews and non-Jews alike. "It's one-part baseball film and two-parts spiritual journey," he says. "In the same way people like to watch any culture and religion presented in a documentary where you see transformation happen as a result of learning more about a culture, people will get out of it a special feeling of connecting with Israel and seeing why it's important to American Jews."
"Like" the Heading Home: The Tale of Team Israel Facebook page for showings, film updates and more.
Famous Jewish Baseball Players

Throughout the 150-year history of Major League Baseball, Jewish baseball players have had had an incredible impact on the game, with the first Jewish ball player (Lip Pike) dating as far back as 1871. Here's a list of a few of the game's most famous Jewish stars:

Hank Greenberg (Detroit Tigers 1930, 1933-1941, 1945-1946; Pittsburgh Pirates 1947): Nicknamed "The Hebrew Hammer," Hank is regarded as the first Jewish superstar in American sports. His 58 homeruns in 1938 stood as a single-season record by a right-handed hitter for 60 years.

Al Rosen (Cleveland Indians 1947-1956): Al was noted for his strong Jewish pride and like Sandy, refused to play on the High Holy Days. He won the AL MVP award for his stellar 1953 season and was a member of the Cleveland Indians World Series championship team in 1948.

Sandy Koufax (Brooklyn/Los Angeles Dodgers 1955-1966): Considered by many as one of the best pitchers and perhaps greatest Jewish athlete of all time, Sandy was the youngest player to ever be inducted into the Baseball Hall of Fame. He also made headlines by declining to pitch in Game 1 of the 1965 World Series because of Yom Kippur.
Several Jewish players were huge factors in last season's MLB playoffs. Tune in to Spring Training, which kicked off on February 21, and then follow the whole season beginning on Opening Day on March 28.
Like this article? Sign up to receive Journeys in your inbox each month »