When 5-year-old Eli Gerston wanted to wear a dress to preschool, her mother Jodi worried whether Eli would be accepted by the teachers or bullied by other children. To calm those fears, staff at Yavneh Day School in Los Gatos, California, participated in a training led by Keshet—a Jewish organization dedicated to equipping institutions like this day school with skills and knowledge to build LGBTQ-affirming communities.
This timely training was critical in helping the day school ensure inclusion not only for Eli, but also for all LGBTQ individuals. The result? Eli felt welcomed and valued, and continues to thrive in her community. And that's the primary goal of Keshet—to work for the full equality of all LGBTQ Jews and their families through education and training, youth programming, and community mobilization.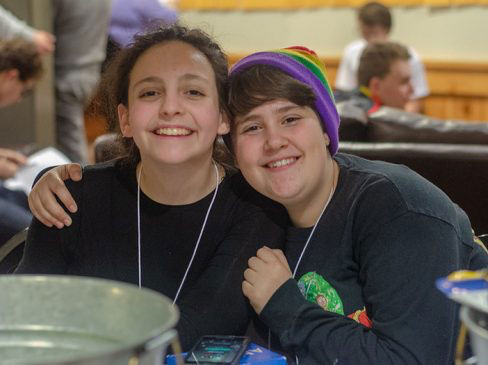 Keshet's signature training is its Leadership Project that organizes a yearlong cohort of up to 10 Jewish organizations across the U.S., including synagogues, day schools, Jewish community centers, youth groups, and summer camps, to help facilitate inclusion. "We give community leaders the tools, skills, and confidence to put LGBTQ equality into practice," says Rabbi Micah Buck-Yael, Keshet's director of education and training.
Now in the midst of COVID-19, the organization is gearing up for its first-ever virtual cohort for Conservative synagogue leaders. The cohort will kick off this October with a Summit where Keshet facilitators will help these synagogue leaders create customized action plans. Five coaching sessions will follow over the year to ensure congregations are LGBTQ inclusive and affirming.
Keshet also often consults with organizations around very specific needs. For example, a camp may have questions about gender housing or a synagogue may need resources to support a member during gender transition. Keshet helps by reviewing policies and sharing best practices from similar organizations.
The Pandemic Impacts on Youth Programming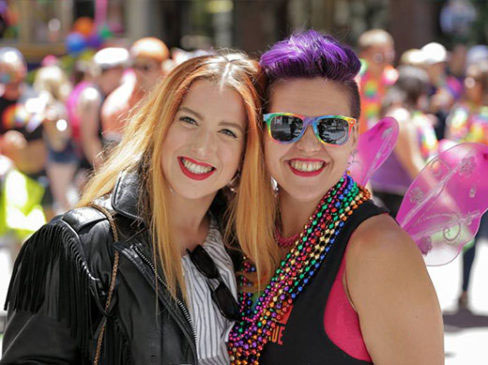 Since the onset of COVID-19, Keshet found one of its most heavily impacted communities is LGBTQ youth who lost access to in-person gatherings that celebrate and affirm. "Those who want to claim their identity and share that information with loved ones are experiencing compounded stressors in isolation," Micah shares.
Prior to the pandemic, Keshet hosted Teen Shabbaton Retreats, which have been temporarily replaced with weekly online programs hosted in collaboration with other youth-serving organizations. Soon, Keshet will also launch leadership development opportunities for LGBTQ Jewish youth.
"What we seek to do, both with the Shabbatonim and with our online programs, is create affirming spaces for youth to exhale and be in community with one another," says Jaimie Krass, Keshet's director of youth programming. "During our programs, they build meaningful friendships, engage in deep Jewish learning, and hone their change-making skills so they can build a world we can all be proud of."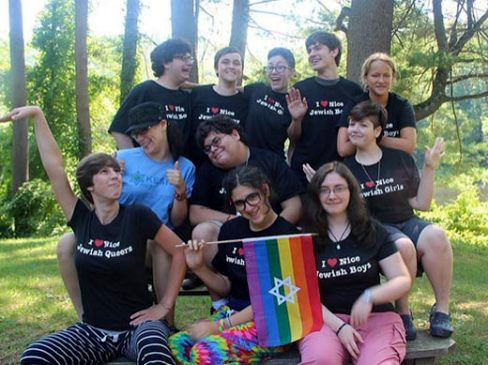 Teens who participate in these events are grateful for the opportunity. "It's been so nice to have fun things to look forward to when all the regular things I do have been canceled," shares one participant. "Knowing there are a bunch of LGBTQ Jews out there I can connect with online is important. It's also a great getaway from what's happening in the world right now."
Keshet also provides mentors for families of LGBTQ youth, including parents, grandparents, and caregivers who need assistance to support their loved ones. Request a Keshet mentor here.
"Supporting LGBTQ Jewish youth along their journeys of self-actualization, working with them to rebuild this world into one in which they can be their full, authentic selves unapologetically—at all times and in every space—means more to me than anything else," says Jaimie. "When I see their sense of self-love and belonging grow, in the company of new friends and new role models, I am filled with nothing but hope for what the Jewish community, and this world, will become under their leadership."
Micah echoes the sentiment: "In my role, I aim to honor and uplift the dignity of every person. Seeing the potential to build communities is at the core of our Jewish values, and I can't imagine anything I'd rather be doing."
For more information or register for the Leadership Project cohort, email [email protected].
Unifying With BIPOC Communities

The Jewish tenet that all people are created B'tzelem Elohim, in the Divine Image, inspires Keshet's work in ensuring LGBTQ people nationwide are treated with dignity. Keshet organizes and advocates for LGBTQ rights by mobilizing rabbis, community leaders and members, synagogues, youth movements, and Jewish advocacy organizations to affirm—on the bimah and in the streets—that fighting for LGBTQ equality is a Jewish imperative.

During the current unrest in the U.S., Keshet is unifying with BIPOC communities who have impacted the LGBTQ rights movement since the Stonewall riots in June 1969. The riots occurred after police raided a gay bar in New York called the Stonewall Inn, and arrested its employees and patrons. Weeks of violent protests followed, initiating the gay rights movement. "BIPOC individuals are still in that place of struggle," says Micah. "The ways in which we work for justice are fundamentally interconnected, and require us to learn from and be in solidarity with one another. Keshet continues to engage in the internal work for racial equity within our organization and programs."Learn about Keshet's current and past campaigns.
---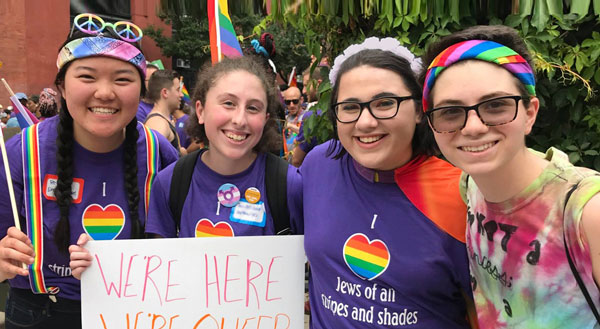 Celebrating Pride Online
Every June, Keshet traditionally hosts several in-person community events in different cities to celebrate Pride Month. Due to the pandemic, the organization shifted gears and is empowering and equipping Jewish organizations and individuals with resources to celebrate Pride in their own communities. Keshet is also hosting and co-sponsoring a variety of online Pride events, including Jew York Pride, several Pride Habdalah ceremonies, Queer Youth of Faith Day, and more, all of which people can RSVP for here.
---
Watch this USCJ video about how each of us can support LGBTQ Jewish teens: