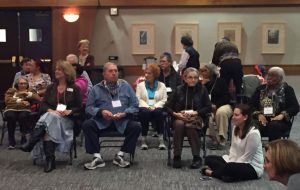 Step into Stein Hall at Congregation Beth Yeshurun in Houston, Texas any fourth Thursday of the month and you might witness "Ann," a 102-year-old African-American woman in a wheelchair mouthing the words to an old song being performed or moving her hands during tai chi. Or one of the other seniors who range in age from their 60s to 90s—like "David," a war veteran who always sports his veteran's baseball cap with a smile, or "Alan," a retired physician who loves to dance the Jitterbug and Charleston with the volunteers.
These are a few of the many diverse faces of different races and religions who participate in The Gathering Place program at Beth Yeshurun, the largest Conservative synagogue in the U.S. What "Ann" and the others all have in common is memory loss—whether it is from Alzheimer's, dementia, a traumatic brain injury or memory issues that stem from other diseases, like Parkinson's.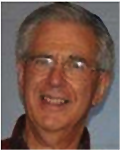 "When you come here, we want you to have that warm feeling—where people know your name, they respect and like you and you're going to have fun," says Richard Kammerman, chairman of their Committee for Inclusion of People with Disabilities that founded the Solomon Schechter Award-winning program in 2011. "It's a welcoming program."
Lillie Hurwitz, who co-chairs The Gathering Place program, along with Hedy Spiegel, says that, "People at this stage of life are still so loving and caring. The music touches them and you see them come to life when an old song comes on. The ones who don't even speak anymore will start to sing. They are people who are losing their brain activity because of a disease or accident but you can still touch them and make a difference."
Meanwhile, Hedy, whose own mom suffered from Alzheimer's disease, adds, "My big goal is to just make these people smile. I want them to be happy. Some I knew before they had memory loss. One man was my kids' pediatrician years and years ago. It's just nice to be able to do something nice for them.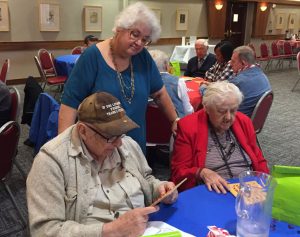 The once-a-month, free activity-based program is put on in partnership with CarePartners Texas, a citywide non-profit that provides professional consultative assistance for this program and similar ones in 50 locations, including mostly churches and three synagogues, throughout the Houston area. CarePartners provides the program outline and helps screen program participants and refer them from throughout the community, including from a nearby Jewish home for the aging. That has translated into nearly two-dozen seniors with memory loss attending each month—half are synagogue members and the other half non-Jews from the surrounding community.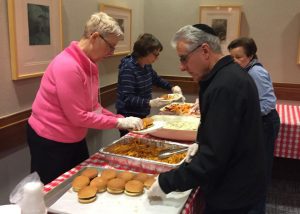 What makes The Gathering Place program uniquely "Beth Yeshurun" is its focus on Jewish learning and tradition. While program participants enjoy activities like musical performances and exercise like tai chi, they also eat a Kosher lunch and take part in arts and crafts, games and learning designed around Jewish and holiday themes. For example, for their Fall High Holidays theme, the art project was around Sukkot. A rabbi, including the synagogue's 89-year-old retired rabbi Jack Segal, also joins the group to talk about the Jewish holiday or give a Dvar Torah before lunch. "While we follow the basic Care outline, our program is clearly based in Conservative Judaism," says Richard. "We explain Judaism to people who are not Jewish in a way that makes it understandable. It helps people have a nice time and learn something."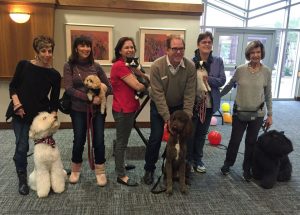 The program's 60-plus volunteers have learned a few things as well. "So many people in our synagogue are so generous and caring," shares Lillie. "There's a real camaraderie that's developed among our volunteers, who include retired physicians, social workers, teachers, lawyers, businesspeople, homemakers and more. It's just magnificent." Lillie, a volunteer herself, says the experience has been incredibly rewarding. "It has opened my eyes to the needs of the aging community, to the need for socialization for those who are isolated by their memory loss and to the needs of their family members or caregivers to have a respite from their roles."
For Hedy, she finds it most rewarding to be able to do something that makes the participants more of what they used to be before the memory loss. "Our entertainment always does songs from the past and you watch these people with big smiles and they know every single word. You see them sort of as they used to be—happy and connected."
Richard has been personally impacted as well by his work with The Gathering Place. It aligns with his values of inclusiveness and respect that his father, who owned a liquor store in an African-American neighborhood of Houston, ingrained in him while growing up. "He always used to say, 'We must respect people who are not like us. We do business with them and they do business with us. They are no different than we are.'"
Richard adds that, "There's a real sense that we need to be sensitive to and respect other people. We have to make our community a welcoming community—and we are doing it with The Gathering Place."
The Gathering Place By the Numbers

113—Number of care partners (families) served since 2011, when the program was founded
11,028—Number of hours of dedicated service by the volunteers who put on the program
68—Number of care team members who have been involved in the program's success
50—Number of locations in Greater Houston that host The Gathering Place (Beth Yeshurun is one of three temples who participate; the other participants are churches)
25—Number of seniors with memory loss issues who participate each month, although this number can vary
---
How Common Is a Disease Like Alzheimer's?
According to Alzheimer's New Today, someone in the U.S. develops Alzheimer's disease every 66 seconds. It is thought that by the middle of the century, someone in the U.S. will develop the disease every 33 seconds and the total number of people with Alzheimer's disease in the U.S. could rise to as high as 16 million people by 2050.
USCJ, through its partnership with the Ruderman Family Foundation, works with its member congregations to make disability inclusion a priority. Read more here.
Like this article? Sign up to receive Journeys in your inbox each month »