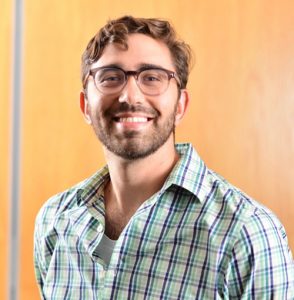 As Diller Teen Fellows Coordinator Aaron Jacobs traveled from Los Angeles, California, to his parent's home in Texas shortly before New Year's, a wave of memories flooded over him—particularly when he went to his childhood bedroom and saw what was stapled to the wall by his bed.
At Diller, a global organization with 32 cohorts in communities across the world that aims to create meaning and purpose in Jewish life, Aaron is in charge of running workshops for Los Angeles Jewish teens that engage them in monthly thought-provoking discussions about topics ranging from their belief in God to self-reflection on identity exploration. He coordinates social action-orientated projects within the community, and has planned a 10-day Los Angeles Jewish Community Seminar and led a three-week leadership-based trip to Israel over the summer.
But before Aaron was a coordinator at Diller—and even longer before he was the USY International, USY Southwestern Regional and USY Dallas chapter president—he was a 9th grade student at a public high school in Dallas, Texas, who was assigned to present a report on an important political figure. While his fellow classmates spoke about U.S. presidents, governors and senators, Aaron had a different person in mind.
"Me being so heavily into USY, I did my report on then-USY International President Dave Goldberg and why he was such a great leader," Aaron says. Filled with pride after teaching his non-Jewish classmates about his idol, Aaron wrote an email to the former USY president telling him about the speech. "When I won the election for USY presidency a few years later, Dave happened to be there. Afterwards, he handed me a copy of my email with a note saying, 'Wishing you a year of good luck.' It was such a gift that he remembered it and the feeling of one of my idols now being my colleague served as a grounding moment for me to always remember where I came from."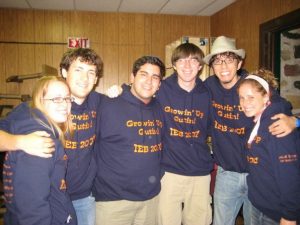 Growing up, Aaron celebrated his Bar Mitzvah, attended Hebrew school, enjoyed Shabbat dinner every Friday and regularly attended synagogue, but it wasn't until he joined USY in 8th grade that his passion for Judaism and growth really took off. He's one of many who were part of USY who not only applied what they've learned into their professional careers, but can recall a slew of moments that helped define who they are today.
For Aaron, it didn't take long for him to craft the key leadership skills needed to be a successful young professional. After the local Dallas chapter president stepped down, Aaron—only a sophomore in high school—stepped in as president mid-year before being officially elected as a junior.
"I've always felt that the best way to learn is by being thrown right into something and fortunately, I had incredibly good support from the region and my older brother, who was also in USY," says Aaron. "The chance to become my chapter's president provided me with an amazing opportunity to learn and grow. It obviously wasn't easy or something I learned overnight, but in the end, hopefully, I was able to give some meaning to people."
As chapter president—and eventually Regional and International president—Aaron learned critical public speaking skills, how to tell a story with intention, ways to delegate responsibility and how to lead a board. But perhaps most of all, Aaron learned how to dream big. That's what led him nearly 1,000 miles away from his hometown to the University of Arizona, where he studied film production and Judaic studies.
After graduation, Aaron pursued his dream of making it big in Hollywood. While working on the Disney show, Girl Meets World—a spinoff of the popular '90s show Boy Meets World—Aaron saw one of his most memorable USY memories played out in front of millions around the country.
"I shared with the Girl Meets World team during a brainstorming meeting about when I was a group leader of USY on Wheels, Mission: Mitzvah and we were traveling the country doing mitzvah projects," he says. "As the leader, I challenged participants by giving them different denominations of money and telling them to use the tzedakah to go around and give it to those in need or help buy something simple for someone like a cup of coffee. Later that week, we volunteered to stain a wood fence surrounding the Anchor Center for Blind Children in Denver, Colorado. That story ended up inspiring the 'Girl Meets Money' episode on the show."
In Aaron's personal life, his experience in USY proved to be just as fruitful. He met his now-wife, Mazelle, during a USY Israel pilgrimage and was reintroduced to her years later at a mutual USY friend's wedding. "I owe everything to USY—it's where I made life-long friends, gained a special connection to my Jewish heritage and met my wife," he says. "It's still an important part of my life and I think it always will be."
Shortly after Girl Meets World ended in 2017, Aaron met with one of his mentors, 1990 USY International President Rabbi Adam Kligfeld of Los Angeles' Temple Beth Am, to discuss a career change. This meeting helped Aaron discover his true calling.
"When I was working on Girl Meets World, each episode had a purpose and was created with the goal of the viewer being wiser after watching," he says. "When the show ended, I wanted to explore my other passion, working with Jewish teens. I realized that I could still apply the same type of storytelling I did on the show to working with Jewish teens, with the goal being to leave them wiser. Today, my position with Diller allows me to do a lot of the same things I did as an USY leader, such as building schedules for retreats, putting together educational curriculum on Jewish values and leading trips to Israel."
While each Jewish youth organization has its own unique way of teaching, Aaron firmly believes when you get to the core of each teen organization, every program shares the same common desire. "I'd say that providing a meaningful Jewish experience is the goal for all Jewish organizations, and for me, I'll be forever grateful for the experience I had with USY," he says.
Years after his time with USY, Aaron's life today is still very much centered around the Jewish values he learned. "I actively picked to live in a Jewish neighborhood with easy access to synagogues and kosher restaurants and grocery stores," he says. "Hosting Shabbat dinner or attending at a friend's house is something my wife and I enjoy doing every week. To me, being an active part of the Jewish community didn't end when my time with USY did. To be honest, I think that was just the beginning."
Finding Growth in Israel

Like his brother before him, Aaron spent a year in Israel studying at the Hebrew University in Jerusalem and volunteering in Be'er Sheva in southern Israel, as part of USCJ's Nativ college leadership program. "It was really the first experience where I had to discover how to be a leader outside of USY," he says. "In Israel, I was Aaron Jacobs, the regular guy, not Aaron Jacobs, USY president. I was able to see a side of leadership that didn't require a title or me being the center of attention. It was very eye-opening and a great lesson to learn."
Would you or your teen like to know more about USY and its leadership opportunities? Click here to get started.