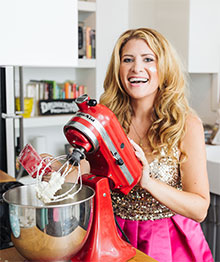 Amy Kritzer Becker's culinary roots first developed as a child, while she cooked side-by-side with her grandmother among the aromas and flavors of potato kugel and matzo ball soup.
Years later, while working a corporate job, Amy fulfilled her passion for cooking by voraciously reading food blogs. "I thought, 'Wait, I can do this,'" she recalls. "So I quit my job, and enrolled in culinary school at Le Cordon Bleu in Austin, Texas." One year later, she was catering, teaching cooking classes, and creating content for her own food blog, "What Jew Wanna Eat – This Ain't Yo Bubbe's Blog." It features home-cooked, almost-kosher goodness with a twist.
"My brother Andrew and I came up with that name," she laughs. "We would joke and say 'after Jew' while opening the door, and the name stuck." Andrew also changed the focus of the blog, which was originally going to feature cupcakes. "He suggested making it more meaningful," shares Amy. "Jewish food made sense because it's part of our identity."
Still, this isn't your average Jewish cuisine. "I wanted to make Judaism more approachable through food, so I added my twist on some of my Bubbe's recipes," she explains. In Austin, she catered to the local palate with dishes like Mexican potato latkes with jalapeños, avocados, black beans, and corn. Other favorite twists include Nutella rugelach, spicy dill pickle hummus, and rainbow challah (see recipe below).
Creative, yes. But she's not taking full credit. "As Jews have spread around the world, they have picked up ingredients and recipes that have altered Jewish cuisine," she says. While Amy initially started the blog as a hobby—she thought only her mom and Bubbe would read it—her approach to Jewish cuisine has gained widespread appeal. Her recipes have been featured in Cosmopolitan and Bon Appetit magazines and on The Today Show blog, to name a few.
As the blog's readership grew, so did Amy's ability to introduce Jewish foods to other cultures. "I've met many non-Jewish readers who want to cook for Jewish family or friends," she explains. "I have one reader who isn't Jewish, but makes every recipe for her Jewish husband."
Amy and her new husband recently moved to Puerto Rico, where she is already incorporating local flavor. "They use a lot of pork, which isn't kosher, but I'm experimenting with adding coconut and papaya," she says.
Next, the couple will honeymoon in Japan, and Amy is excited to see what recipes will unfold from the experience. "Like food, life is diverse and ever-changing," she says. "And that's what makes it fun!"
More on Her Plate

While Amy's plate is full, there's always room for dessert. She shares her favorites in her cookbook "Sweet Noshings." She also launched a website, www.ModernTribe.com, with her brother Andrew that offers unique gifts, from Jewish jewelry to emoji menorahs.

Amy's Hanukkah Favorites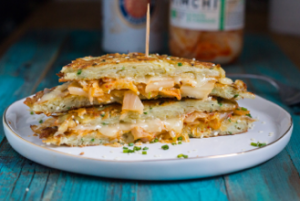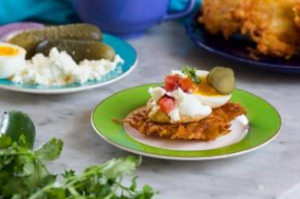 This Hanukkah, start a day off with breakfast latkes with homemade shug, or spice up an evening with these kimchi quesadilla latkes.
---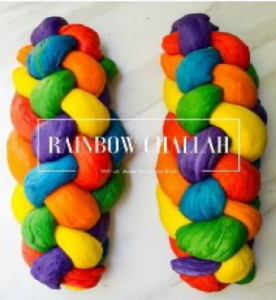 Amy also suggests trying your hand at braided rainbow challah.