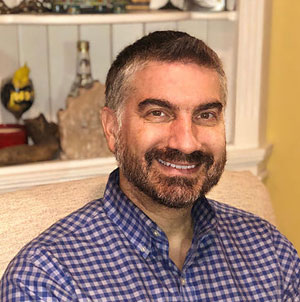 One night in March 2015, I spent about 20 minutes inside the sanctuary at my synagogue, Midway Jewish Center in Syosset, New York. I was alone with my Canon T5i capturing images of the pews, the bimah and overall room configuration that in less than 12 hours would never be the same. Funds had been raised for a million-dollar renovation and demolition would begin the next day. I wanted to have a photographic record of the worn out fabric on the seats, the rainbow-colored doors of the ark and other elements in the sanctuary that were in need of repair or just badly outdated.
In addition to taking pictures that night, I reflected on all that had taken place in this room…my daughter's Bat Mitzvah, my son's Bar Mitzvah, graduations, Shabbat, holidays and the Friday night service my wife and I attended as new parents while synagogue shopping. Then I began to consider this renovation in a larger context. What memories exist or have faded at other local synagogues that have taken on similar projects? What about all the Long Island synagogues that have closed in recent years and congregations that have merged with their buildings sold off? Who will remember those synagogues beyond the generations that experienced them for themselves? What has already been forgotten? These questions became the impetus for a project I took on that night and four years later, it is finally complete.
As the fourth largest Jewish community in the United States after New York City, Los Angeles and southern Florida, it was surprising to me that little had been written about the history of Judaism on Long Island. The suburban community east of New York City comprised of Nassau and Suffolk counties is well known for its rapid growth following World War II, but details about Jewish life prior to 1945 were not easy to come by. In addition, there are many synagogues currently operating on Long Island, but exactly how many had never been tabulated. The challenge in front of me was to fill in the blanks by digging deep through research, but also by visiting these synagogues and meeting with clergy, professional staff, lay leaders and congregants who could provide their own first-hand perspectives about Judaism on Long Island and how it has evolved over the decades.
To document my findings, I set up an Instagram account where now and then I posted photos I had taken of various synagogues near my home with commentary about their origin, architectural style, decorative artwork and anything noteworthy that makes each unique. This casual hobby quickly grew into an obsession to uncover little known details or long forgotten historical facts about every synagogue. From Great Neck to Montauk, I found congregations across the religious spectrum, but what was more intriguing to me was the diversity of the synagogue buildings themselves. Big and small, old and new, fancy and modest, traditional and modern, some in the living room in a private home and others designed by world-class architects. In an effort to be completely comprehensive, my goal became to identify not just every current synagogue, but buildings formerly used as a synagogue as well. The end result of this journey that took me hundreds of miles to communities all over Nassau and Suffolk counties are photographs of 385 synagogue buildings.
Finding and visiting active synagogues was fairly simple. More challenging was identifying buildings that were synagogues at one time, but are now serving other purposes. While many are being used by other religious institutions, some former synagogues have been converted for non-religious use as private residences, medical offices, a meditation center, municipal offices, a youth center, a college art gallery and even a laundromat. Beyond visiting buildings that still stand, there are several synagogues that once were the heart of Jewish life for a community, but leave no mark having been destroyed by fire or torn down to make room for new housing developments, office buildings and a parking lot. Finding photos of these lost synagogues required an investigative search that led me to historical societies, museums, libraries, synagogue office files and personal collections, scattered and rarely seen, until now.
I continue to post on Instagram but I am fortunate that Segulah Press wanted to take my project and have it showcased in a hard cover coffee table book. The photographs I have taken combined with archival images alongside the history of every synagogue in Nassau and Suffolk counties has produced a comprehensive narrative that tells the rich history of Judaism on Long Island. Over the past four years, I have come to understand and appreciate how synagogue buildings identify how we see ourselves as Jews and how we want to be seen. Our place in the communities where we live and pray has evolved and is reflected in the architectural styles seen in synagogues constructed across Long Island since 1896. The research I conducted, the synagogues I visited and the people I met along the way have given me a wealth of new insight into Jewish life on Long Island and how it has become one of the largest Jewish communities in the diaspora.
About the Author
Brad Kolodny has photographed nearly 600 synagogues in 13 countries over the last 30-plus years. He is the author of the new book Seeking Sanctuary, 125 Years of Synagogues on Long Island that is now available on Amazon.