The Masorti Movement in Israel—a Judaism that preserves observance and tradition while recognizing how modern life in Israel is lived—is blessed with women rabbis of intellect, energy, and spiritual commitment to Torah, egalitarianism, inclusion, and community. Their varied backgrounds and experiences enrich their kehillot and communities. From Israel to France and the former Soviet Union and beyond, these women blaze a trail full of challenges and rewards. Meet four women rabbi of the Masorti Movement of Israel here: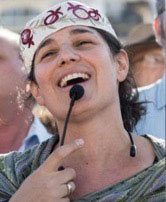 Chaya Rowen-Baker of Ramot Zion in French Hill, Jerusalem
Born in New York, Chaya grew up in Ra'anana with parents in a "mixed marriage"—her father founded an Orthodox synagogue and her mother was a founder of a Reform synagogue. But the family environment was pluralistic. Through her studies at the Schechter Rabbinical Seminary in Jerusalem, she saw the need to convey Masorti's message of inclusion, egalitarianism, and love of tradition to the Israeli public. Serving as a pulpit rabbi, she now gets to experience the "diversity of the congregation, ability to dream and initiate, and ability to connect with people at significant points in their lives."
"To look out upon the hall of worship that is full of the congregation's children, standing under a tallit and receiving a blessing from veteran members of the congregation…is to feel the pride and joy in the room, and to know that we are on the path of life and growth," she shares.
---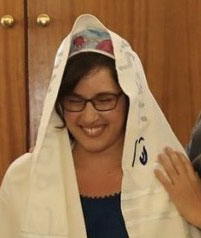 Rabbi Dikla Druckman-Sherzer of Congregation Magen Avraham in Omer in Northern Israel
Dikla was born in Ra'anana to a largely secular family. Her first exposure to a synagogue was when she began to prepare for her Bat Mitzvah and the experience was life changing. "I can well remember the feeling of warmth and acceptance…and the excitement I experienced upon discovering and connecting to tradition and the treasure trove of deep Jewish knowledge," she recalls.
As one of the youngest female rabbis ordained in Israel, she manages many roles—rabbi, young wife, and mother. "I have the privilege to accompany people at important junctures in their lives," she says. "I am privileged to officiate at Bar/Bat Mitzvah ceremonies and marriage ceremonies and to celebrate festive occasions. At the same time, I counsel people in moments of pain and difficulty and this is a great privilege, too."
Rabbi Dikla shares her achingly personal story of overcoming hardship while leading her synagogue in this video: Women, Clergy, and Resilience.
---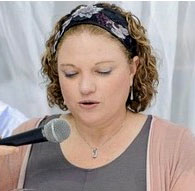 Rabbi Nathalie Lastreger of Minyan Mishpachti Masorti in Kfar Vradim in the Western Galilee
Born in Paris to a traditional family, Nathalie immigrated to Israel with her parents as a child and grew up in a religious-Zionist community. But as the environment became more extreme—religiously and politically—she no longer felt at home there. "I went forth seeking what my soul longed for, and I found the Masorti Movement," she says.
In her rabbinical studies, she had to answer the command "to perfect the world under the sovereignty of the Almighty." For Rabbi Nathalie, it was "a command to perfect the world spiritually, socially, politically, and morally…to reach a vision of a model society—one based on the values of equality, justice, and peace. This is the lighthouse that illuminates my steps and this where my legs take me, with faith, for His—or Her—sake, with love."
---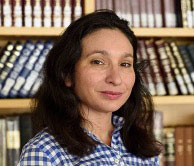 Rabbi Irina Gritsevsky
Recently ordained by the Schechter Rabbinical Seminary, Rabbi Gritsevsky was born in the former Soviet Union and grew up in Israel. She fell in love and married an American Jew who helped her to "fall in love with open, inviting, inclusive, and colorful Judaism in a world of commandments without coercion."
She doesn't like being constrained by labels, but if pressed, she defines herself as "a Russian-speaking, secular, believing, and observant Jew. No matter how complicated the definition is, I found a home in the Israeli Masorti Movement and I see its great strength in its ability to contain, accept, and deal with this complexity."
---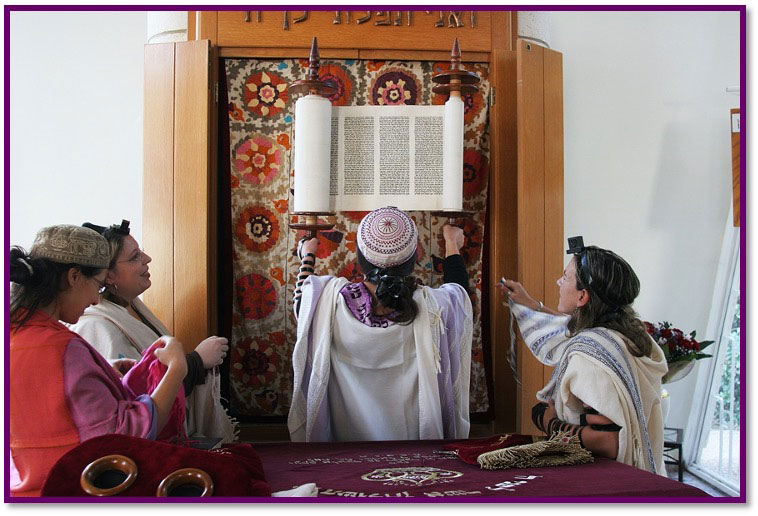 This article was contributed by the Masorti Foundation for Conservative Judaism in Israel. The Foundation's purpose and mission is to support the work of Israelis in building a Judaism that preserves observance and tradition while recognizing how modern life in Israel is lived. Many thousands of Israelis in the Masorti Movement—young and old, native-born and immigrants, men and women, able and disabled—are engaged in building communities that embody a democratic vision of Jewish life in Israel.