Maimonides, Mishneh Torah, Laws of Yom Tov 6:18
"And when you eat and drink, you are required to give food to "the stranger, orphan and widow among the other poor and unfortunate ones" (Devarim 16:11). However, one who locks the doors to his courtyard and eats and drinks with his wife and children, and does not give food or drink to the poor and indigent this is not the joy of a mitzvah, but rather it is the joy of his stomach…"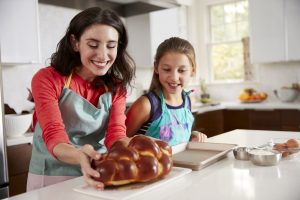 According to a study by the National Retail Federation, Americans spent an average of $967.00 on holiday gifts last year (up 3 percent from the year prior). While it's all done in the spirit of giving, eight nights of gifts is enough to break anyone's bank. That's why in the true spirit of this season, we are offering up other ways to give that cost less and mean more to you and the recipient:
Give the gift of time: Nothing is more memorable than spending time with family and friends, sharing and passing on traditions and creating new ones. Let this be one gift you give yourself and others this season—time with the people you care about most.
Do a good deed a day: Celebrate the eight days of Chanukah by doing a different good deed every day for family members and friends. Choose something you know (or ask what) your family member or friend would appreciate. Just be prepared to do something different than you might want to do for them—whether it is running an errand, babysitting their kids or painting a fence.
Keep a pushka (charity box): Put it on prominent display in your home and office. Ask family members and co-workers to drop in a few coins at least once a day. Then, decide as a group where to donate the money to help an individual or organization. It could even be a family member or co-worker who has fallen on tough times.
Show how handy you are: Gifts don't have to be store-bought. In fact, homemade creations are often more meaningful. You could make scarves to donate to a homeless shelter, blankets for animals at a pet rescue or soup mixes for elderly or widowed neighbors. Need DIY ideas or inspiration? Head to Pinterest!
"Shop" for someone else's family: Buy and wrap new toys or collect like-new items in your home to donate to people in your community who are in need. Your synagogue or children's school could likely point you to a less fortunate family who would appreciate the kind gesture.
Rediscover something lost: The Chanukah story teaches that as the Jewish people worked to clean up the destroyed Temple, they looked for the little bit of oil that miraculously lasted through tumultuous times. Take a similar approach to your home: Do a thorough cleaning and reorganizing to discover lost treasures, from toys to clothing. Look for things to donate to others and repurpose for yourself!
Share your skillset: Are you a golf pro? Help a friend perfect their hole in one. Musician? Gift a friend the guitar lessons they've always wanted. Are you a great cook? Share your recipes and cooking secrets with a friend who is not so kitchen savvy. Sharing skills with others is thoughtful, fun and inexpensive! Also, consider sharing your skills this season with a local synagogue. Don't have a synagogue home? Use the USCJ congregation finder
Get something, give something: Make a commitment for yourself or your family that when you receive a gift this season, you will look through your home to determine what you no longer need and can give away to someone who needs or will enjoy it. Your closets and storage space will also thank you!
Give an experiential gift: Instead of a traditional gift, give an experience. Go on a trip with family or friends. It doesn't have to be expensive; even a day trip to a museum or Jewish cultural site can be memorable. Plan an event, like a play or sporting event to look forward to in the weeks ahead. Buy a group membership to a zoo or amusement park to play together throughout the year. Or purchase group art or dance classes you can take together—after all, education is the gift that keeps on giving.
When Did Jews Start Exchanging Gifts?

American Jews used to exchange gifts only on Purim, but in the late 19th century, there was a shift from Purim to Chanukah. Christmas became magnified in the late 19th century when it became a national holiday in America. The Jewish custom shifted in imitation of Christmas, as the Christian holiday's consumerism grew.