Plus, What You Can Do to Feel Safe and Secure  
Whenever something happens—whether it be the most recent shooting at Tree of Life in Pittsburgh, Pennsylvania, or the one several years back at the Jewish Community Center of Greater Kansas City in Missouri, or even further back at the North Valley Jewish Community Center in Granada Hills, California—safety comes more clearly into focus and sparks many a debate.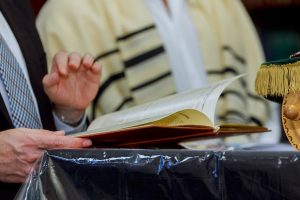 How do synagogues implement security measures without feeling like a fortress? How do they become more secure yet maintain the warm community feel of their synagogue home? What's the cost of security to prevent serious issues when membership is down and the budget is stretched so thin? These are just a few of the questions being addressed right now in conversations not only in the communities and cities immediately impacted, but also across the country.
Barry Mael, senior director of kehilla affiliations and operations at USCJ, who supports USCJ-affiliated synagogues by sharing security tools and best practices, knows the conversations well. "A lot of times, the initial push for more security comes from concerned parents as opposed to people who are attending services," he says. "Having security around the high holidays and large events is nothing new. Covering the rest of the week and the rest of the year is where we have seen a paradigm shift to our approach to security."
However, security can be a major investment. USCJ recently shared a number of security tools and best practices with our synagogues from our partners at Secure Community Network, which, under the leadership of The Jewish Federations of North America and the Conference of Presidents of Major American Jewish Organizations, is at the forefront of an innovative, collaborative and cooperative national homeland security initiative. This included a facility assessment tool, low-cost tips for security and a poster about security in congregations. The most accessed item was low-cost tips for security. "The dilemma for many synagogues today is what can we do with limited resources to best provide security?" says Barry.
The answer for many is to get creative. A lot of synagogues have built relationships with the FBI and local police to conduct facility assessments and identify any weaknesses. They have asked local police to make sure their regular Saturday patrol includes the synagogue or asked police to park in their synagogue lot if they need to stop to place calls or write reports. There are also synagogues that have invested in things like adding protective security film to windows, extra reinforcement for entryways, panic buttons, decorative concrete barriers and keypads throughout the campus to control access. Others have brought in security guards and metal detectors, and some have distributed key fobs to members.
A number of our kehillot are also:
Identifying and applying for Homeland Security, state or Jewish Federation grants specifically dedicated to enhancing security.
Conducting emergency drills during services, just like a school would conduct a fire or earthquake drill.
Featuring their emergency exit plan on a poster in the lobby or on laminated cards in pews.
Forming security committees and training committee members on situational awareness, which includes asking members to walk the grounds, watch the entrances and perhaps be near the doors to identify people as they arrive.
Training synagogue clergy, staff and lay leadership on how to respond to and handle different situations, such as an active shooter or lockdown or even how to handle receiving a bomb threat or suspicious mail.
"People are used to increased security measures in different settings," says Barry. "Things are not the same as 15 years ago. Just think of your own home. Would you leave your front door unlocked like people did in small towns in the '50s? No, today, we have security systems with cameras to see when packages are delivered and intercoms to speak with people at our front door. Certainly, we've become used to different security measures at airports, where we used to be able to walk our friends and family all the way to the gate to say our goodbyes."
Bringing safety to the synagogues is not always as straightforward as we would like. For example, we always want to encourage new people to come try out our synagogues in a way that balances open and welcoming with safe. There are Bar/Bat Mitzvahs where we want to invite family and friends who are non-members and welcome and greet them without putting them through security measures. There are holidays and Shabbat where we want to open our doors to people to come in and feel welcome. There is also Halakha that forbids things like carrying keys or operating electrical devices on Shabbat that we want to observe.
Additionally, guns are always a source of mixed feelings and many people are just not comfortable knowing someone at their synagogue is carrying a weapon. "If you have a guard without a gun, they are basically a security greeter," shares Barry about different synagogue considerations. "You might feel good because you have someone in uniform who might know how to lock down the door or dial for help quicker, but they may only be a passive deterrent. Cameras are also to identify and persecute someone afterward, not necessarily to deter them. Synagogues have to decide for themselves if these things are enough to deter someone who shows up with a gun with the intent of getting in."
He adds that, "The goal is to avert and not have issues. And that starts with not just meeting one time about security and implementing a few measures, but making it an ongoing priority and keeping the dialogue going."
As one rabbi said to the media after the Tree of Life shooting as he was faced with his own congregation's safety: "Temple security is a balance of openness, but not foolishness."
---
It Takes a Community: What You Can Do to Help
Synagogue safety is a community responsibility. Here are tips for how you can help ensure synagogue safety as well as safety at other oft-targets for violence like schools and concerts:
If you see something, like a knapsack lying against a wall unattended, say something.
Get familiar with emergency exits and plans.
Don't leave doors open to the outside—something as simple as propping open a door to get air as you are helping prepare Kiddush in your synagogue kitchen can result in a security breach.
Introduce yourself if you don't recognize someone at your synagogue or see someone wandering around; create a culture of nicely asking what they are looking for and if you can help.
Support your synagogue leadership as they implement safety measures instead of seeing changes as a hassle.
Always air on the side of caution.
Safety and security are always top of mind for USCJ. Click here for the latest information on our commitment. Other good sources for security information are Secure Community Network, ADL, U.S. Department of Homeland Security and FEMA.