The Camp, Woolsey and Hill fires that raged through California in early November are the latest in a series of events that the local and national Jewish communities have faced. A little more than a week after the tragic Pittsburgh, Pennsylvania, shooting at Tree of Life synagogue and less than 24 hours after the mass shooting at Borderline Bar & Grill in Thousand Oaks, California—a place where many families and friends of local congregants attended regularly—the trio of fires forced more than 300,000 people to evacuate, destroyed thousands of homes and threatened synagogues all over the state.
But through the ashes and devastation caused by the wildfires, heroic group and individual efforts have shown—as they have time and time again throughout history—the remarkable power of the Jewish network when it comes together. Leadership from Temple Aliyah (Woodland Hills, California), Temple Etz Chaim (Thousand Oaks, California) and Shomrei Torah Synagogue (West Hills, California)—three synagogues in the thick of the Southern California Woolsey and Hill fires—spoke about their experiences throughout these challenging times and expressed unbelievable gratitude to those in the Jewish community who made sure they always had a home to go to.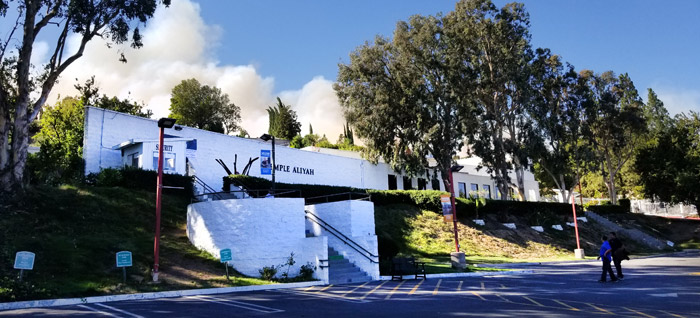 Temple Aliyah
Temple Aliyah wasted little time when it came to making sure congregants were safe and all valuables inside the synagogue were out of harm's way. The morning after the fires started to spread, leaders quickly removed the Sefer Torah and all sacred materials out of the shul and off the facility to a safe location. Soon after, every member of the synagogue received a phone call from one of the temple's several dedicated volunteers. "In a moment of crisis, it's critical for communities to come together and from the synagogue's standpoint, to be in touch with everyone, whether it's checking in to make sure each person is okay, offering support or connecting them to whatever they need," says Membership Engagement Director Alicia Cohen Kraus, who worked four consecutive 12-plus hour days coordinating dozens of volunteers, matching evacuees with temporary homes and even opening her own home to anyone who needed it.
As the flames inched closer, nearby de Toledo High School, a private Jewish school less than 3 miles from Temple Aliyah, graciously and immediately opened its doors to the entire surrounding community, offering food, beverages, shelter and most importantly, comfort. "As soon as it became obvious that we needed to evacuate, de Toledo and Campus Business Manager David Marcus made unbelievable efforts to make sure everyone had a place to come to," Rabbi Ben Goldstein says. "They embraced the idea of opening their doors to us and gave us all the space we needed. They even offered an amazing pop-up day camp for elementary school children whose classes were cancelled."
Sleeping roughly 15 hours in a span of five days, Rabbi Goldstein was one of several clergy and staff at Temple Aliyah who worked night and day ensuring that every member of the congregation was safe. Through live videos on Facebook, Rabbi Goldstein helped reach tens of thousands in the community by informing them about the various programs and services available to evacuees. He also collaborated with clergy from several local synagogues, emergency response teams and agencies and made himself available for counseling if any community members needed someone to talk to.
If de Toledo High School was out of reach for some, dozens of Temple Aliyah community members offered their homes to those who were displaced without ever giving a second thought. "People may question why they should belong to a synagogue and wonder what the utility is, but we've really seen in the last week how powerful and supportive the Jewish community truly is."
Temple Etz Chaim
Temple Etz Chaim Executive Director David Brook, whose family was evacuated from their home the night of the fires, doesn't sugarcoat how much of a whirlwind it's been throughout the month of November for not only the Jewish community, but the entire Ventura county. "Following what happened in Pittsburgh, it was important for us as a synagogue to open our doors and all come together, so the following Monday we had nearly 500 people at our synagogue and at least one-third of the audience were non-Jews who came to show their support," he says. "The Borderline Bar, on the other hand, is only 2 miles away from our synagogue so it was a different kind of pain since many members are parents to young adults who know people who were killed there. Then, to top it off, we didn't even have time to grieve because almost immediately after the fires began to rage. Thankfully, our synagogue was just on the other side of the fire and not in the evacuation area."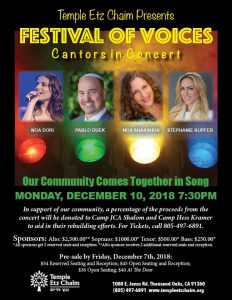 Once deemed safe, Temple Etz Chaim ramped up its community outreach by taking in Ilan Ramon Day School in Agoura Hills and Adat Elohim in Thousand Oaks, each of which sustained damage to their facilities in the fires. Both schools, which will likely remain at Temple Etz Chaim through at least December, were offered to join in for Shabbat service and have been able to hold staff meetings. Temple Etz Chaim also held a successful community-wide blood drive and offered free childcare for any family who needed it.
In further support of the community, the synagogue will give a portion of the proceeds from its December 10 Cantors in Concert event to Camp JCA Shalom and Camp Hess Kramer, two beloved Jewish summer camps destroyed by the fire.
"Seeing the Jewish people come together like this restores my faith in humanity and I know if the roles were reversed, we'd have a lot of help as well," David says. "To see a fire truck come up your street and all your neighbors run out with food and water and to have de Toledo High School offer daily services and activities for everybody is what it's all about."
Shomrei Torah Synagogue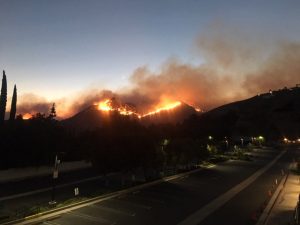 How do you tell soon-to-be B'nai Mitzvah that the biggest event of their lives may have to be pushed back until the foreseeable future? This was the dilemma Shomrei Torah Synagogue faced while flames became visible from the steps of the synagogue. The decision was made early in the morning that day to move both B'nai Mitzvah events 15 miles away to Valley Beth Shalom, which graciously welcomed the impacted families and their friends to the synagogue.
"We contacted the B'nai Mitzvah families, the cantor and all the vendors at 6:30 a.m. to tell them we were heading to Valley Beth Shalom and we couldn't be more thankful for how warm of a welcome we received," Rabbi Richard Camras says. "Every member there greeted us and Valley Beth Shalom President David Spiegel actually thanked me for the opportunity to host us. The fact that the custodial staff was able to accommodate a double B'nai Mitzvah celebration and luncheon is remarkable."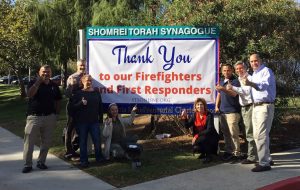 While plans were being arranged to move the B'nai Mitzvah events, Communications Director Seth Front had his ears on the ground, regularly relaying city and county updates to congregants using Facebook and email and updating the front page of the synagogue's website to direct visitors to emails that were sent out. "What I found to be extremely beneficial was creating a phone tree so that our 15 volunteers could easily check in on all of our members A-Z and try to connect them with people who were offering their homes for people to stay at. We ended up with more people offering their homes than people who needed them."
To Rabbi Camras, instances like the ones we've seen throughout California bring to mind the phrase "Kol Yisrael arevim zeh la-zeh"—all Jews are responsible for one another. "At the end of the day, natural disasters could happen to any of us," he says. "Our hearts broke due to the kindness and generosity displayed by both Valley Beth Shalom and Temple Kol Tikvah, who opened up their space for our preschool and religious school and supplied the kids with hot lunch. It reminded me, and everyone, what it means to be a part of the thriving Jewish community."
You Can Help, Too

No matter what state or even country you reside in, here are two steps you can take to help: Consider supporting the Jewish Federation of Los Angeles, which has created a Wildfire Relief Fund, or donate to USCJ's Disaster Relief Fund. USCJ's funding often supports needs that other funders do not.