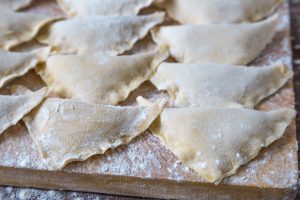 Purim celebrates the bravery of a young woman named Esther who was chosen to be the wife of King Ahasuerus of Persia. When the King's adviser, Haman, persuades him to kill all the Jews in the empire, Queen Esther's cousin and adopted father, Mordecai, calls on her to use her influence and stop the plan. The tale is told in the Book of Esther, known as the Megillah, and ends with Haman's hanging and the Jewish people saved.
Just as there's a story behind the masks we wear in celebration of Purim, there's also meaning to many of the foods we enjoy, from Hamantaschen to Keylitsh. So before you dig in this year, join us as we unmask four holiday favorites that serve as important reminders that Purim is more than a day of celebration; it's also about reflection, thankfulness and forgiveness.
Hamantaschen
Perhaps the most well-known of Purim's treats, Hamantaschen is the triangle-shaped cookie filled with anything from poppy seeds to apricot, raspberry to chocolate. Like its three corners, the cookie carries three symbolical beliefs: Some say it resembles the three-cornered hat Haman wore, while others think it celebrates Haman's ear's being clipped (Hamantaschen in Hebrew is oznei Haman or "Haman's ears"). Since the tradition of eating these cookies on Purim began in Europe, it's also thought that German Jews named them Hamantaschen (tasche means pouch or pocket in German) in reference to Haman's pockets being filled with bribe money.
Kreplach 
Purim is one of three holidays—in addition to Yom Kippur and Hoshana Rabbah—where kreplach is served and the theme of judgement is present. On Yom Kippur, we are judged in regards to the upcoming year. On Hoshana Rabbah, the books of judgment are finally sealed. And on Purim, the Jewish nation was judged by Haman and eventually emerged victorious.
According to the Kaballah, meat represents gevurah, the divine attribute of judgment, while bread helps sustain the planet without taking life. Together, they symbolize chesed, the divine attribute of kindness. Enjoying kreplach on Purim reminds us that kindness should soften any judgements that may be in store for us. 
Keylitsh
Also known as Polish egg bread, keylitsh is a large, elaborately braided Eastern European challah often served on Purim. The bread's long strands are meant to be reminiscent of the ropes used to take down Haman once and for all.
Meat-Free Meals
Meat-free meals such as bean soup, pastas and salads aren't just good Purim side dishes; they mean something, too. Going vegetarian on Purim reminds us of Queen Ester's meat-free diet and the struggle she faced while at the king's palace. To avoid violating kosher laws, it's understood that Queen Esther lived on a variety of seeds, nuts and legumes.
Hamantaschen in 30 Minutes or Less

Main Ingredients
½ cup vegetable shortening
½ cup unsalted margarine, or butter
1 ¼ cups sugar
3 large eggs
¼ cup orange juice, or milk
1 ½ teaspoons vanilla
4 cups all-purpose flour
½ teaspoon salt
2 ½ teaspoons baking powder 

Preparation

In a mixing bowl, cream the shortening, margarine (or butter) and sugar together. Add the eggs and blend until smooth. (If the mixture is hard to blend or seems curdled, add a bit of flour to bind it).
Stir in the orange juice, or milk, and the vanilla. Fold in the flour, salt and baking powder and mix to make a firm but soft dough. Transfer the dough to a lightly floured surface and pat the dough into a smooth mass. Cover it and let it rest for 10 minutes. If the dough is too soft, refrigerate for an hour or up to 1 day.
Preheat oven to 350 F and line baking sheets with parchment paper.
Roll out one piece of dough on a plastic wrap-lined counter (or lightly floured surface) to a thickness between 1/4 and 1/8 inch. Cut 4 inch rounds with a cookie cutter and fill each round with a generous teaspoonful of the filling. Fold in the edges of the circle to form a triangle of pastry encasing the filling. Repeat with the remaining dough and filling.
Bake until golden brown (18-22 minutes).
Enjoy!Note: If you prefer, this dough can be made ahead and refrigerated up to 2 days or frozen for a couple of months. Allow the dough to come to room temperature before rolling it out.

For other recipe ideas for this year's Purim celebration, click here.
Like this article? Sign up to receive Journeys in your inbox each month »