Time and time again throughout history, our Jewish ancestors have been forced to flee their homes in an attempt to live better and safer lives. And whether through the national news, social media or the local newspaper, almost all of us are aware of the current crisis at the U.S.–Mexico border, eerily echoing what the Jewish people have experienced for thousands of years.
At the end of August, Jewish leaders and representatives from several national Jewish organizations, including USCJ's Pacific Southwest Region President Belinda Sacks and Vice President Jamie Berman, saw firsthand what life is like for migrants at and around the border and some of the struggles they face attempting to come to the United States.
"The goals for us going were to deepen our knowledge, better understand critical issues and develop a Jewish response to the policies that are currently in effect," Belinda says. Delegates arrived with plans to dive into key issues surrounding immigration, but left with much more.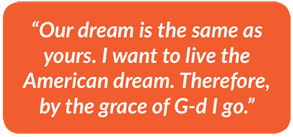 On the first day of the group's arrival, the delegation gathered in San Diego to meet with Mexican Consulate Marcela Celorio. They visited a children's shelter, attended bond hearings at the Otay Mesa Detention Center and witnessed court hearings as part of Operation Streamline—an initiative created with the goal of combatting drug and weapon trafficking, as well as repeat illegal immigration into the United States and getting people through the system as quickly as possible.
What the group saw at the hearings helped put some of the immigrants' hardships into perspective. "Twenty-three disheveled men and one woman marched into the criminal court shackled at hands and feet," Belinda says. "All 24 defendants were captured on Monday and were brought before a judge the very next day. Within an hour, all of them were processed and convicted of entering our country illegally and were to be deported."
During the hearings, the detained became a little more "human" as their stories were shared. "They explained why they risked their freedom and left their families to travel to the unknown," says Jamie. "Most came because they had families they so desperately wanted to support; some even had been trying to get to family already in the United States."
Organized by HIAS and the Anti-Defamation League, the trip served as a powerful reminder to the group that the stories of today's asylum seekers are nearly identical to the stories of our own families and communities.
"They are no different from many of our family's stories," says HIAS Director of Campaigns Rebecca Kirzner. "These immigrants should be able to become a part of the diversity in which our country takes pride and should not be treated like criminals, jailed and separated from their families and sent back to extreme danger."
Day two started across the border in Tijuana at the Instituto Madre Asunta, a shelter providing economic and social stability to migrant women and children who arrive from parts of Mexico and other countries with hopes of successfully crossing the border. Although the residents—and the children in particular—seemed to be in bright spirits, Belinda couldn't help but look deeper at the situation. "Upon closer examination, we noticed bags of clothes and a few other belongings that these women must have carried with them from home on their way to the border and a new life," she says. "Though 'life went on,' their lives were in transit, without any place to establish roots."
Perhaps the biggest eye-opener during the trip came a few yards over at the Pueblo en Camino men's shelter, a place where, unlike the women's shelter, the vast majority of residents were deportees. While there, delegates spotted two men many thought they had seen in court in San Diego the previous day.
The men, Pablo (age 30) and Federico (age 24), were caught on Monday, processed on Tuesday and deported that very night, only to make their way to the shelter the next morning. With shelter Director Father Murphy's permission, the group asked Pablo and Federico if they would speak about their experience.
"They spoke with animation of their families and their time in the detention center. When we asked Pablo about his family, he wept while telling us that his 10-year-old son pleaded with him to come home and not to try to cross the border again," Belinda says. "Federico told us about growing up on a farm with his parents and wanting to attend university. He had graduated high school and was hoping to go to America to get a higher education. Their parting words hit us hard. Pablo said, 'Our dream is the same as yours. I want to live the American dream. Therefore, by the grace of G-d I go.'"
In addition to meeting with those at the shelters, delegates met with legal experts, advocates and local organizations, both in the U.S. and in Mexico, that work with asylum seekers and deportees. While not every delegate was able to experience it all due to size limitations, particularly at the hearings, time was allotted for everyone to gather, learn in precise detail from each other and come away with their own thoughts and interpretation about the powerful experience.
"Overall, the trip was eye-opening and important, but it was just one step," HIAS Senior Director, Communications & Digital Media Bill Swersey says. "As a Jewish community, we must stand for our values and take action in any way that we can to protect the rights, dignity and lives of asylum seekers and refugees."
For more information about helping people seeking asylum, click here.
Easy Steps to Take to Help With the U.S.-Mexico Border Crisis

Take a few minutes to call your Congressperson and advocate for what you feel is important.
Donate to an organization that is working to solve the crisis.
Volunteer with an organization that is working on the front lines of the crisis.
Attend a protest to have your voice amplified by strength in numbers.
National Jewish Organizations Represented in the Delegation:
American Jewish World Service
Anti-Defamation League
Avodah
HIAS
Jewish Family Service of San Diego
Jewish Council for Public Affairs
Jewish Funders Network
J Street
National Council of Jewish Women
Rabbinical Assembly
Reconstructing Judaism
Reconstructionist Rabbinical Association
Religious Action Center of Reform Judaism
Repair the World
Righteous Persons Foundation
United Synagogue of Conservative Judaism
Union for Reform Judaism