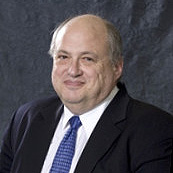 When Joel Hertz had his Bar Mitzvah, he spoke so well that people said, "Oh, you should be a lawyer." "I was good in history and social sciences and always interested in reading," he recalls, "and I liked to argue." Decades later, Joel, who lives in Toronto in Ontario, Canada, has built a career for himself doing just that—and then some.
In 1979, he was called to another kind of bar—the Ontario Bar Association—and went on to practice law for almost four decades. During those years, he did general practice, family law, real estate, personal injury and criminal litigation. "I am primarily a litigator, especially in my later years," he says. "Even if you work out a deal, you still have to go to court, so I enjoyed that."
As a Conservative Jew, Joel's values often informed his work, but also made it challenging at times. "Especially with legal aid and criminal law, you are almost always helping the underdog, which aligns with my basic values and tikkun olam, repairing the world," he shares. "I acted for a lot of people without a lot of resources. I'm also very against the death penalty, which I think of as a Jewish value. We don't have it here in Canada because we're big on wrongful conviction. A lot of people get put away and then it turns out they weren't guilty. Had you executed them, it's really hard to undo that."
Joel has also had the privilege of helping many Jewish people over the years. He knows a lot of Orthodox Jews and has helped them settle cases in Rabbinical Court. He has helped people, including his own in-laws, file for their Holocaust reparations from Germany and prove their age to receive government pensions since many survivors said they were younger than they really were when they first immigrated. Additionally, he has done pro-bono work for Jewish synagogues and charities. In fact, he helped his own synagogue, Beth Am of Toronto, sell to a church congregation after numbers of shul-goers dwindled.
Some of his most interesting cases over the years have included working alongside social activists to help a doctor, Holocaust survivor and champion for abortions in Canada. The doctor had been charged with performing abortions and riots were taking place outside of his clinics. Joel and the group of activists wound up going from province to province and successfully fighting to keep the clinics open. Joel also worked with the indigenous people of Canada. In one case, a mother, daughter and husband were charged with not paying sales tax on nearly a million dollars in artwork (since the indigenous don't have to pay it). It was proven the husband lied about being indigenous, and he fled the country with the art. Joel got the mother to plead guilty to get the daughter's charges dropped, knowing the mother would still be able to work while on house arrest. When she was fired, they sued for wrongful dismissal and won. Once again, Joel felt like he was fighting for the underdog.
As he began cutting back on his work as a lawyer, Joel ramped up what ended up being a 10-year term as a public school trustee in the York Region. There were a lot of Jewish day schools in the area at the time, so Joel had to balance his passion for a Jewish education with his commitment to ensuring a quality, equal opportunity public school education. "Jewish education in Toronto is expensive, like it is in most places," he says. "I'm Jewish and did promote private schools as much as I could, but I also promoted the public schools, so that put me in a bit of a challenging position."
Joel unfortunately witnessed anti-Semitism several times during this period. Once, the board had rented out school space for some of the Jewish private schools to hold after-school programs and later decided they didn't want them there. There were also challenges during the High Holidays when one school didn't want to recognize the holidays as school holidays, or when another school wanted to hold their country fair on the same day. Joel fought against these injustices, too. He also helped when the only Korean child in town got in a fight and was wrongfully accused of using martial arts because of his heritage. "I got involved in that because it was discrimination," recalls Joel, who eventually headed up the district's race relations committee.
While Joel is now officially retired from both roles, he still does some legal consulting, teaches, is politically active and assists people running for provincial and federal positions. "I've done a lot of standing up for minorities," he says. "That's just part of my Jewish identity."
Is there such thing as a Jewish work ethic? Click here to discover more.
Has your Judaism ever informed or challenged your work as a professional? Click here to tell us your story to be considered for an upcoming issue.