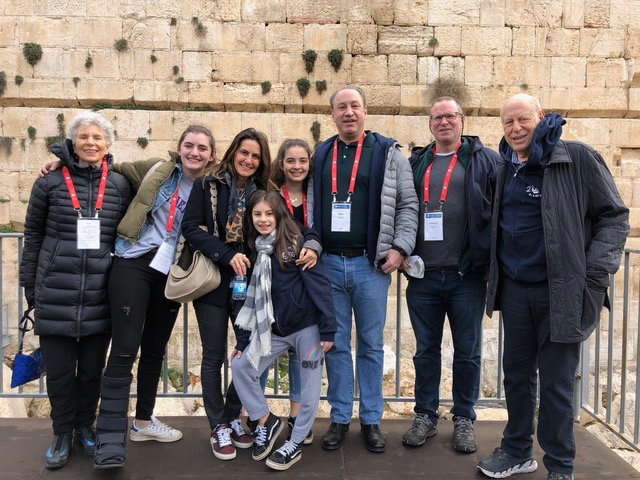 With her husband, Ronald, on one side and her two sons, daughter-in-law and three grandchildren—ages 9, 14 and 17—on the other, Linda Daitz couldn't help but feel a sense of pride and gratitude as three generations of her family experienced the power of Israel together as part of Park Avenue Synagogue's historic trip.
Ranging from infants to seniors, congregants to clergy, 450 attendees took the eight-day journey together—making for one of the largest single synagogue visits ever to Israel. For many, like Linda, the trip was an once-in-a-lifetime chance to teach younger family members about the significance of Israel while building community with fellow congregants.
"Judaism doesn't get in the soul by osmosis," Linda says. "Israel is part of our identity and where our story starts. To see our rich culture passed down to our children and grandchildren is deeply meaningful and cements what a profound experience like this can have on enriching your sense of Jewish identity."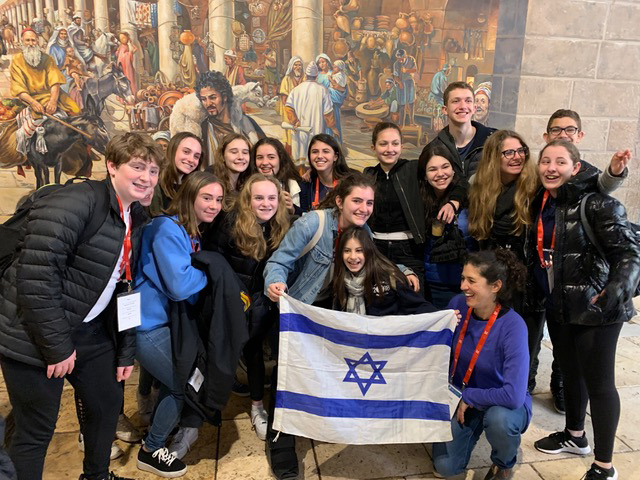 Even after more than 10 prior visits to Israel, Linda felt moved to make this one to bridge and create memories together with her family's three generations. "It was important for my husband and I to 'walk the walk' and show our grandchildren how important Israel is and that we're showing up and making this a priority," she says. "During this trip, I saw teenagers bonding and parents meeting each other. I even became friends with many of my grandchildren's friends. When we go to services now, we all feel part of a larger community filled with new friends with whom we share special memories."
Trip attendees were able to register for one of five tracks—young families, B'nai Mitzvah families, teens and parents, millennials and parents and adult learners—each focusing on age-appropriate material but sharing common elements. They celebrated religious pluralism, explored how Israel uses Jewish values to promote inclusion, met with the Israel Defense Forces soldiers, participated in a Tikkun Olam project and discussed Israel's current political and social climate.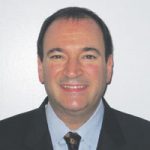 "For many American Jews today, the only point of engagement with Israel is through news articles, tweets and Facebook posts," says Rabbi Charles Savenor, Park Avenue's director of congregational education. "These trips aren't just designed to see the sights, but are also centered around the conversations we have with the Israeli people, as well as an exceptional spiritual and educational experience for families. Israel is not just a country, it's one of the centers of Jewish peoplehood."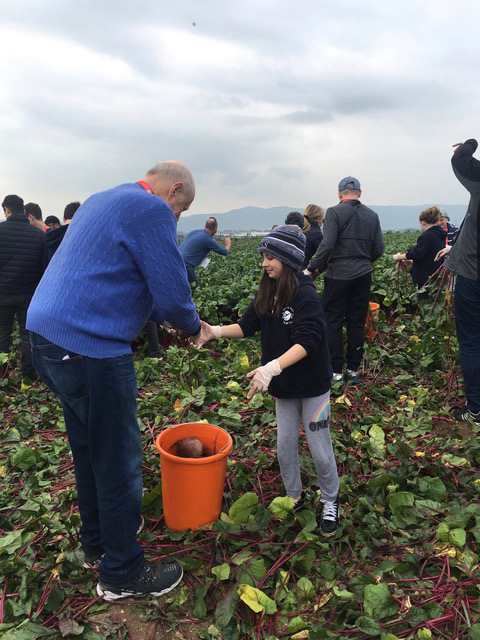 One of the most powerful highlights for Linda came as part of a Tikkun Olam project in which participants helped pick fresh vegetables for Leket Israel, an Israeli charity that distributes surplus food to the less fortunate. "As we were all picking fresh veggies, I looked over and saw my husband and youngest granddaughter working together to put the vegetables in the collection bucket," Linda says. "It was just so powerful to me that two generations of my family were working together on this very meaningful project."
For Linda and Ronald's son Charlie, it was the realization that he was sharing Shabbat in Israel with his close-knit family. "It hit me during the Park Avenue Community Havdalah service that by celebrating Shabbat in Israel, my family was taking our place in the chain of Jewish ancestors that stretched back thousands of years," he says. "This sense of shared commitment created very strong bonds between my family and members of the synagogue, as did sharing new experiences and adventures."
Another treasured moment was when the owners of Buza Ice Cream came to the group's hotel to share their story. "We found out that the shop was created by both a Jewish and Muslim man, so it was fascinating and meaningful to see two people from completely different backgrounds coming together, despite their differences, to create this successful business," Linda shares.
Also incredibly powerful was sharing it all with their Park Avenue "family." "It's one thing to run into people you know from the synagogue on the street or in the grocery store in New York," sums up Amy Steiner, who co-chaired the trip and attended with her husband and two children, "but it's quite another to be surrounded by fellow congregants in the hotels and restaurants and on the streets of Israel."
Park Avenue and Israel Celebrate Together

Park Avenue Synagogue—one of the largest egalitarian Conservative synagogues in North America—had something special to celebrate during this trip to Israel: 136 years since Park Avenue's founding. In a celebration overlooking Jerusalem, congregants shared in a night of dancing, music and food. The synagogue also unveiled its "birthday gift" to Israel (celebrating 70 years of independence)—a Torah scroll donated to Ezrat Yisrael, the section of the Kotel used for egalitarian prayer. On the final day of the journey, B'nai Mitzvah and teen track participants, along with Rabbi Elliot Cosgrove ad Rabbi Neil Zuckerman, personally delivered the Torah to the Kotel. "What could be a more sacred gift?" says Linda. "It was very meaningful to see my family and Park Avenue community so full of joy. This trip did wonders on burning Jewishness into my soul."
Taking your children on their first trip to Israel? Click here for 11 tips on how to make it a meaningful experience.