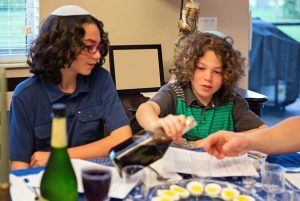 An hours-long Passover seder can feel longer than the 40 years our ancestors spent wandering the desert for young kids full of energy and wonder. So, what's the key to keeping them engaged? Bring the experience down to their level with simple explanations and infuse it with fun and interactivity.
What's the Story?
According to PJ Library, which celebrates Jewish culture, values and tradition through the joy of storybooks, the Passover story can be told in a way in which young kids can better relate. For example, introduce slavery of the Jewish people and Moses like this: The first Passover happened long ago in the far-away country of Egypt. A mean and powerful king, called Pharaoh, ruled Egypt. Worried that the Jewish people would one day fight against him, Pharaoh decided that these people must become his slaves. As slaves, the Jewish people worked very hard. Every day, from morning until night, they hammered, dug and carried heavy bricks. They built palaces and cities and worked without rest. The Jewish people hated being slaves. They cried and asked God for help. God chose a man named Moses to lead the Jewish people.
What's in a Name? 
Explain to your kids how Passover got its name when Moses asked Pharoah to free the Israelite slaves and was repeatedly rejected. God was going to punish Egypt with 10 plagues—frogs, boils and hail, among others—and told Moses to alert the Israelites to mark their homes so He would know to "pass over" them when casting down the last plague.
What's on the Plate?
Share with your kids why the seder plate contains five items and what each is symbolic of. The spring vegetable (such as parsley) is dipped in salt water and eaten to resemble the taste of our ancestors' sweat and tears. Maror (such as horseradish) serves as a reminder of the bitter oppression of slavery and Pharoah's difficult-to-swallow decree to drown the Israelites' male infants. Charoset (a mix of chopped apples, nuts, wine and honey) recalls the mortar the Israelites used to build cities for Pharoah. And a roasted shank bone, which represents the Passover sacrificial offering, and a roasted egg, symbolizing rebirth and renewal, are also on the plate, though they aren't actually eaten.
Why Four Cups? And Why Not the Fifth?
Tell your kids about how the four cups of wine (or grape juice for them) are drunk throughout the seder to symbolize the four stages of redemption the Israelites experienced. The fifth cup is set aside for "Elijah" to represent hope for future redemption.
Why Don't We Break Bread?
Talk with your kids about the Israelites fleeing Egypt so quickly and their bread dough not having a chance to rise. That's why you'll never find challah or any other bread made with yeast on the seder table; instead, we enjoy matzah or flat bread.
Can We Sing, Sing a Song?
Singing Passover songs is a great way to keep kids happy and engaged. An article in Kveller suggests expanding your song list beyond classics like the Four Questions, Dayenu and Chad Gadya. Here are some of their favorites:
Shira Kline, "Let My People Go" from the ShirLaLa Pesach
Debbie Friedman, "Miriam's Song" from Songs of the Spirit
Mah Tovu, "Pharaoh Pharaoh" from Pharoah Pharoah
Peter and Ellen Allard, "Ten Plagues in Egypt Land" from Bring the Sabbath Home
The Mama Doni Band, "Rasta Pasta" from I Love Herring (and Other Fish Shticks)
Bingo Anyone?
The more your kids are involved in your seder, the better for everyone. Consider making a family Haggadah in the weeks leading up to Passover. Have your kids draw pictures or take photos of them acting out parts—like dressing up as the Four Sons or reenacting the Ten Plagues—to include. Other ideas: Set up a seder plate "discover zone" and encourage kids to feel, hold and learn about each item. Or play seder bingo with boards made by older children—give out candy to be placed on the board when words are mentioned (the kid with the board that fills up first gets to eat the candy).
Click here for other fun ideas from Kveller on how to survive a seder with kids.