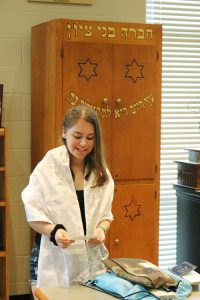 For more than 50 years, USY on Wheels has been taking Conservative Jewish teens on a six-and-a-half-week journey across North America to see some of the continent's most unforgettable attractions. As memorable as it was this summer for 16-year-old Lindsey, a Florida native, to meet Mickey Mouse at Disneyland and experience the beautiful views of the Grand Canyon, these weren't the highlights of her trip—instead, it was becoming a Bat Mitzvah in the small town of Whitwell, Tennessee.
Despite a population of less than 2,000 people, the town of Whitwell is of great historical importance. It's home to the Children's Holocaust Memorial, which features more than 30,000 letters, documents, books and artifacts, as well as a railcar (the same one used to transport Jewish detainees) filled with millions of paperclips donated from around the world to honor the 6 million lives lost in the tragedy. The location was featured in the well-known 2004 documentary, Paper Clips. "In a place where we learned about the senseless destruction of our people, we were able to celebrate the life of one of our peers and our Judaism," says USY Program Coordinator Elyssa Ronik.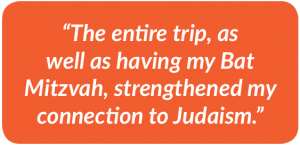 Lindsey's experience four weeks into the trip was so powerful that she felt the time was perfect to officially become a Bat Mitzvah with her fellow USYers and staff members in attendance. "I never had a Bat Mitzvah celebration at 13, so when I told that to my USY counselor, she said I should really consider doing it at the memorial," she says. "After I thought about it, it felt so right to do it there and it ended up being a really wonderful day. I had spent the past month getting to know everyone and creating such tight bonds, so it was an amazing feeling being surrounded by my friends."
The service was held in the Visitors Center Library of the memorial. Lindsey gave a brief speech to attendees about how meaningful this moment was to her and then was called up to the Torah to read an Aliyah. Helping to strengthen Lindsey's Jewish identity even more was her choosing of her own Hebrew name—Libi Chaya (ליבי חיה), which means "My Heart Lives."
"The entire trip, as well as having my Bat Mitzvah, strengthened my connection to Judaism," Lindsey says. "After giving my Bat Mitzvah speech, I felt such a part of the community. This was my first USY event, but I am already looking into attending more in the near future."
Lindsey is one of many Jewish people who've waited to celebrate their Bar/Bat Mitzvah. Read about others here.
To learn more about the USY on Wheels program that inspired this powerful celebration of life and Judaism, click here.
Did You Know?

The Groundbreaking First Bat Mitzvah Happened Nearly a Century Ago

On March 18, 1922 in Manhattan, New York, 12-year-old Judith Kaplan became the first American to celebrate a Bat Mitzvah
Judith's father was Rabbi Mordecai Kaplan, the founder of Reconstructionist Judaism
Reflecting on the ceremony, Judith stated, "No thunder sounded. No lightning struck. It all passed very peacefully."
In 1939, Judith published her first book, "The Gateway to Jewish Song"