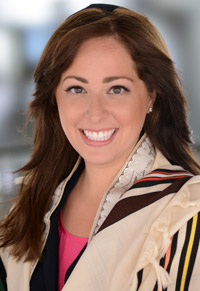 For Cantor Shira Lissek of Temple Israel in Charlotte, North Carolina, music has always been the most powerful force in her life. It is her way of making a difference in the world. "Cantors are connectors," she says. "Through our voices and through music, we are able to connect people to themselves, community, history and tradition and create transformative worship experiences and meaningful lifecycle events."
While music has been an integral part of Jewish life for thousands of years, dating all the way back to ancient times, studies show that just 35 percent of today's Jews listen to Jewish music live or recorded. Cantor Lissek would love to change that. Here, she shares how people can bring more music—and meaning—into their lives in 2019:
Q: In your experience, what kind of impact does music have on people?
A: I believe music is transformative. If you want to have transformative Jewish experiences, either for holidays, lifecycles or worship, then music is the best tool to do that. Music can bring us all into another realm—it's truly experiential Judaism at its finest.
Q: In what ways can people bring more Jewish music into their lives?
A: It's important for people to know that there really is so much Jewish music out there—everything from traditional songs and melodies, to things written as recently as yesterday. Go to shul and hear what cantors and communities are doing or bring music into your home and wake up listening to it. It's really as easy as using streaming services like Spotify or asking your home virtual assistant to play Shabbat or Chanukah music. People might be surprised to find out there's music always coming out that's easily accessible and easy to listen to.
Another resource is Jewish Rock Radio, a 24/7 international Jewish rock online radio station, which was founded by Rick Recht and his wife, Elisa. People can go to jewishrockradio.com and listen to contemporary new artists. Many of these artists are touring the country and invited to different synagogues for events. It's a tremendous resource and community for new artists and Jewish Educators and for those looking to enrich their lives with Jewish music.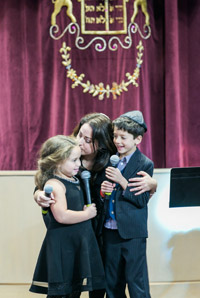 Q: How can parents introduce more Jewish music to their children?
A: There are several ways parents can flow Jewish music in their children's lives. During the drive from home to school or while picking up the kids from sports practice, put on a CD or play music from your phone. It will become the soundtrack of your family's life. Plus, it's educational and deepens their connection to their heritage.
Q: What advice do you have for someone who doesn't know where to start?
A: I think some people have certain notions about Jewish music and they may not realize the range of musical settings and styles available to them. At the end of the day, the music a person enjoys depends on who the person is. If somebody likes Broadway, then there's a certain artist I'd send them toward or if someone loves Bruce Springsteen, I'd send them in a different direction. I would let them know that in every generation there are new sounds that open our hearts. We cantors, song leaders and Jewish music educators share music that helps make Judaism relevant to the next generation. There are many styles out there and something for everyone.
When I am leading a service, I often have people come up to me and say, "I never thought I could love services this way" or "I never felt connected or relaxed in synagogue, and suddenly these melodies touch me in a way I haven't experienced." I think people really just have to go in with an open mind.
Q: How do you stay on top of all the latest music?
A: My passion is commissioning and searching for great new music! My go-to composers for beautiful new settings of liturgical texts are Oran Eldor, Beth Styles and Meir Finkelstein. But this is a time of new music in all genres of Jewish music. There are many new artists in the Jewish Rock Radio network who are creating new, inspiring and fun Jewish music. Depending on what style I am looking for, I turn to different composers. If I am interested in classical music, or new arrangements for Hazzanut, you can't get better than Raymond Goldstein or Gerald Cohen for example. If I want a more contemporary style, I look for something by Abbie Strauss, Rick Recht, Laurie Akers, or Sheldon Low for example. I also love the settings that Cantor Daniel Singer writes. These are a few of the many talented musicians out there. I am continually discovering inspirational leaders in the Jewish music world. I often watch the livestream services of my colleagues as well.
---
Cantor Lissek's Ultimate Music Mix
---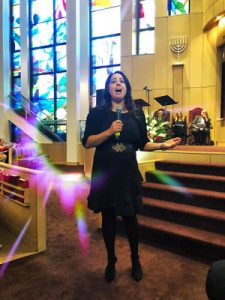 About Cantor Shira Lissek 
Shira Lissek became Cantor of Temple Israel in Charlotte, North Carolina, in July 2018 after previously serving as Associate Cantor of Park Avenue Synagogue in New York City since 2013. She earned a master's in Music from the Manhattan School of Music, where she majored in Voice as a merit scholar. She holds a bachelor's from Indiana University School of Music in Vocal Performance. Born and raised in St. Louis, Missouri, she learned the art of being a Cantor from her father, Cantor Leon Lissek of Congregation B'nai Amoona. She is also the granddaughter of the late Rabbi Pinchas Chasin of Philadelphia and great-granddaughter of Hazzan Hirsch L. Chazin of New Jersey. She began serving as Hazzan Sheni at age 19, when she was invited to lead High Holiday services for Congregation Beth Shalom of Kansas City and then Congregation Gesher Shalom (The Jewish Community Center of Fort Lee, New Jersey). Prior to Park Avenue Synagogue, she served as Hazzan and Music Director of Congregation Mount Sinai in Brooklyn Heights for six years.