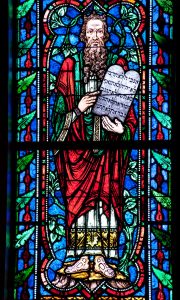 Any ordinary year, a Shavuot celebration—the holiday that began as an agricultural festival and later evolved to honor the giving of the Torah to Moses at Mt. Sinai—might have looked like this: reading the Book of Ruth, staying up all night studying the Torah, and eating cheesecake and other dairy foods. But 2020 is far from ordinary.
In this year of a worldwide pandemic and stay at home orders that are just now slowly lifting in some U.S. states, many of the more traditional communal customs are simply out of the question. But the celebration can still go on in our homes, neighborhoods, and with those closest to us if we reimagine it to still find fun and meaning. Here are several ideas to inspire you:
1) The custom of decorating with greens and flowers reminds us of the spring harvest, as well as that when the Israelites arrived at the base of Mt. Sinai, they found it blooming. Head into your garden or out for a nature walk to pick flowers and greenery. Choose an area of your home to decorate with the clippings. Then, use this area to study the Torah.
2) Re-enact the Israelites camping at the foot of Mt. Sinai with your own campout. Pitch a tent outdoors or build one inside with chairs and blankets. Have a sleepover and stay up late telling stories. Give someone the honor of waking everyone up in the morning to the sound of shofar blasts.
3) Shavuot is an incredible opportunity for appreciating the beauty of the world that God created for us. Go on a nature walk around your neighborhood or at a local park. Soak in the different colors and species. Collect wildflowers to make a centerpiece for your holiday meal, or take pictures of fruits and flowers to print and enjoy at home.
4) As the Torah is often likened to water, planning water-related activities makes perfect sense. Get your buckets and balloons ready for a water fight with loved ones. Take a hike along a trail that leads to a waterfall or around a lake. Pack lunch and enjoy it along a nearby stream. At the very least, take a relaxing bath.
5) Playing a game together, like a homemade Ten Commandments version of Pictionary or charades, will add fun to your celebration. Write down the commandments on notecards, put them in a box and mix them up. Take turns choosing cards and drawing or acting out the commandments. The person who guesses correctly goes next.
6) Mark the end of the grain season by baking your own challah. If you have time, purchase whole-wheat berries and grind them yourself. The shell is called the bran and the brown spec in the center is the germ. Make white flour by separating the bran from the germ. Freeze some challah to give to friends and neighbors later when it's safe.
7) It's also the beginning of the fruit season. While watching fruit ripen on trees may not be an option, you can take part in a fruit-ripening activity at home. Get a variety of un-ripened fruit and put them in different places: on a windowsill, in the refrigerator, or in a brown bag. Then have everyone pick the fruit they think will ripen first and watch to see who wins. Once you have a winner, use the fruit in your holiday meal…perhaps as your cheesecake topping!
Something in Common

What do Shavuot, Passover, and Sukkot have in common? In ancient times, the three harvest holidays of spring (Passover), summer (Shavuot), and fall (Sukkot) were times of great pilgrimage and celebration. Jews from far and wide would journey to Jerusalem to dedicate the first fruits of their harvests, giving thanks and praying for continued abundance.
---
What's in a Name?

Shavuot, which means "Festival of Weeks," is just one name for the holiday. It also goes by Harvest Festival (Chag HaKatzir), Day of the First Fruits (Yom Habikurim), The Stoppage/Restrain (Atzeret—a reference the sages used to highlight the prohibition against work on this day), and Time of the Giving of the Torah (Z'man Matan Torah).